ABOARD THE AMPHIBIOUS ASSAULT SHIP BATAAN — The Navy and Marine Corps are preparing for a massive amphibious landing that will involve 14,000 troops from more than a dozen countries.

The sea services just rehearsed for the largest amphibious landing in the modern era, which will include an armada of sub, surface and air assets larger than the defense force of most nations. Though the first boots will not touch beach for another year, mission rehearsals are well underway during this year's iteration of Exercise Bold Alligator, the annual amphibious training event. 

"We haven't done anything like this in a very long time," said Rear Adm. Roy Kitchener, commander of Expeditionary Strike Group 2. In fact, this is the first time he has participated in a Marine expeditionary brigade-level exercise.

About 850 military leaders from 14 countries practiced every detail of assault in the synthetic realm. From start to finish, the scenario played out in dozens of command centers and aboard seven ships — some docked — up and down the East Coast. Participating nations included Brazil, Canada, Chile, France, Germany, Italy, Mexico, Peru, the United Kingdom and Turkey. 



This is no game, though. Bold Alligator 2016 challenged generals, admirals and command staffs. They are well adept at sustained operations, thanks to campaigns in Iraq and Afghanistan. In fact, most of these leaders helped develop and execute those campaigns.
But this scenario centers on something with which the sea services have not contended with for some time: The necessity to combine arms in order to remain on the offense as a regional crisis grows worse. Leaders must make difficult decisions about a mission that gets more complicated by the minute. Before they strike the enemy, for example, they're tasked with weighing every possible consequence to that decision.
Welcome to the new world of amphibious operations.
Big plans for Bold Alligator 2017
Next summer, the scenario military leaders here practiced will be repeated in real time.
Marines and sailors with a carrier strike group and amphibious ready group will be at sea in an area rife with religious and demographic unease. As the situation deteriorates and tensions escalate, a Marine expeditionary unit will be sent ashore to conduct raids and reinforce security.
Meanwhile, a land-based special-purpose Marine air-ground task force will be tapped to shore up security at an embassy. Special operators and reconnaissance Marines will then enter the operation as the situation devolves further. Then maritime prepositioning ships will roll into the region as an expeditionary strike group and more than 10,000 members of a Marine expeditionary brigade enter the fight.
A reinforced regimental landing team will follow, which includes two ground combat coalition elements: one from the Marine Corps and one from a British commando brigade.
As the force builds, the training mission will grow more challenging. Threats of varying levels are intensify, nations threaten to retaliate and confused citizens don't know who to trust — and it will be up to Marine and Navy commanders to lead the multinational amphibious response.
Amphibious ops in the 21st century
For decades, amphibious operations centered on planning, embarking, movement, rehearsal and assault. In this exercise, a variety of forces are converging on a complex and ever-changing situation.
In that type of environment, coalition forces need to be prepared to split apart, sometimes placing them under new commands on the fly. This requires a lot of give and take, said Brig. Gen. Robert Castellvi, deputy commanding general of II Marine Expeditionary Force and commanding general of 2nd MEB.
"We all are competing for different resources, as we always are," he said. "... Is it black and white? Not necessarily. There is a lot of flexibility to it, and we are going through these [changes] as the battlefield changes."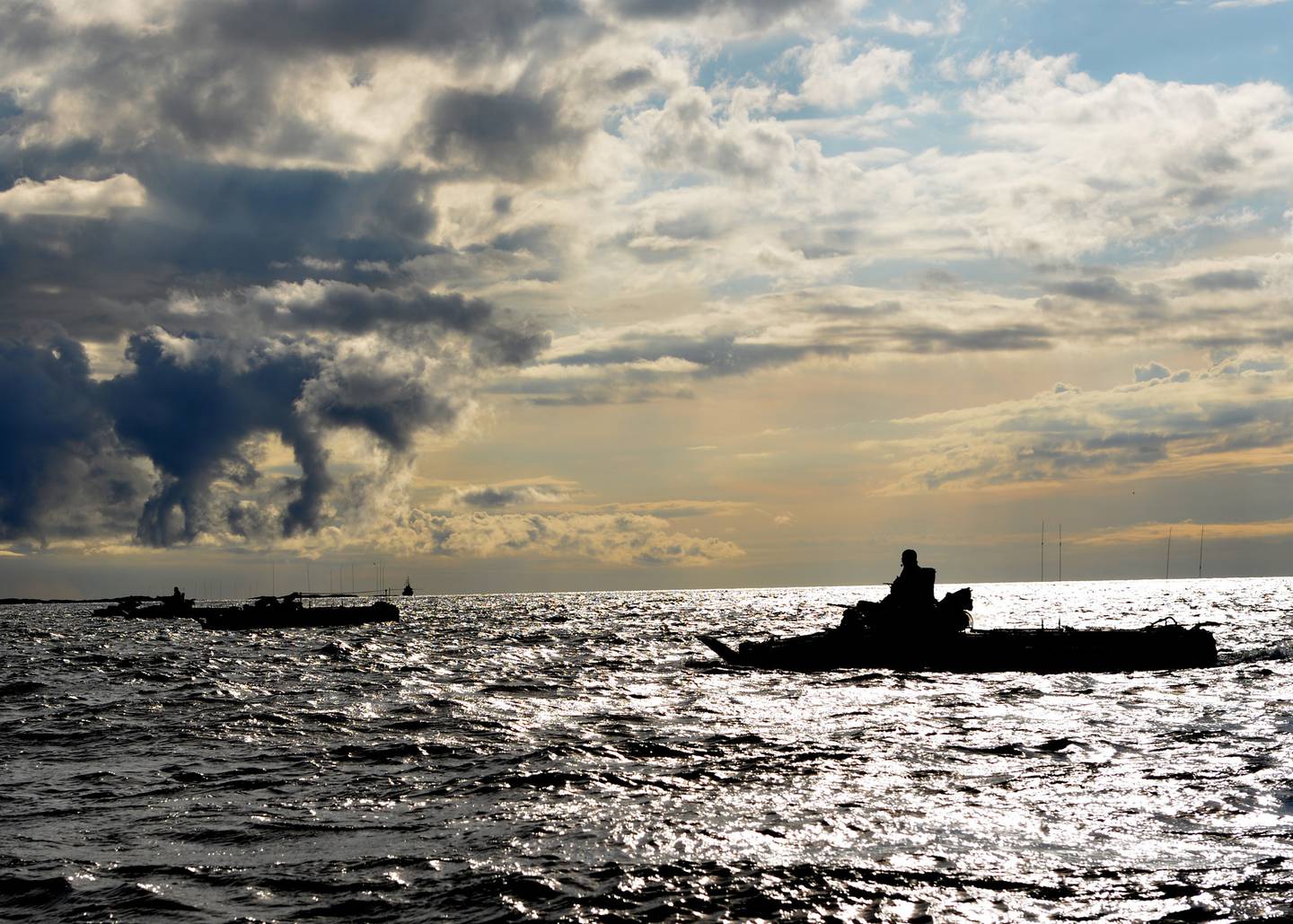 Marine amphibious assault vehicles line up off the coast of Sweden before beginning their simulated beach assault during BALTOPS 2016 in the Baltic Sea on June 10.
Photo Credit: Lt. Cmdr. Thomas Peske/Navy
Key to maintaining the edge amidst that type of uncertainty is new technology, Kitchener said. Castellvi is working with the Marine Corps Warfighting Lab to improve information sharing between commands as variables Marines and sailors face change more rapidly.
But they were reminded that they shouldn't rely too heavily on technology alone. Just as the Bataan prepared for its simulated departure from the port, it lost shore power. Degraded communications forced the team to quickly identify what systems had priorities as the crew scrambled for workarounds. Power was restored in short order, and leaders treated the event as a learning experience.
As leaders prepare for the real thing during next year's iteration of Bold Alligator, they say lessons learned during this year's simulation will not be put on a shelf. Instead, takeaways will be implemented in a number of exercises planned over the coming year, including those in Europe, the Arctic Circle and Africa.
Lessons learned in next year's exercise will be used to create a five-year campaign plan for amphibious operations.
"A MEB-sized amphibious operation, in a coalition environment, this is graduate-level work," Castellvi said. "I think it is going to give great confidence to our combatant commanders that we can operate at this level of intensity."
Share: