WASHINGTON — The U.S. Navy's top surface warfare officer is expected to step down this week under pressure ahead of a forthcoming recommendation that he be relieved, the latest fallout from a string of accidents in the Pacific in 2017 that claimed the lives of 17 sailors at sea.
Vice Adm. Thomas Rowden is expected to send a letter this week stepping down as the head of Naval Surface Force Pacific, according to sources who spoke to Defense News on condition of anonymity. The head of naval reactors, Adm. James Caldwell, suggested Rowden's relief as part of a series of recommendations related to the collisions involving the destroyers Fitzgerald and McCain over the summer.
Caldwell was appointed "consolidated disposition authority" over remaining disciplinary actions stemming from the accidents.
Rowden has been the head of surface forces since August 2014. His office sets policy and oversees the manning, training and equipping of surface ships in the Navy. He is slated to be relieved by Rear Adm. Richard Brown, who currently led Naval Personnel Command in Millington, Tennessee.
RELATED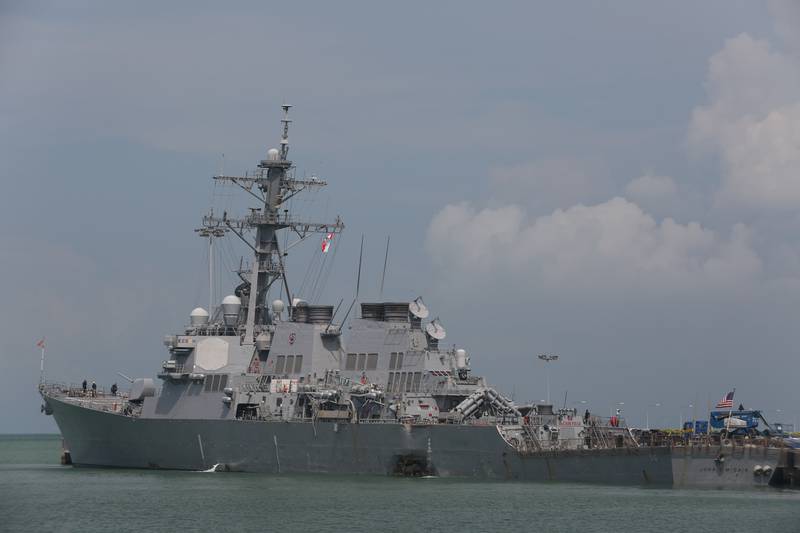 The expected announcement essentially moves up by two or three weeks his retirement from the post. Rowden announced publicly Jan. 9 that he was stepping down within three weeks.
Cmdr. John Perkins, a spokesman for Rowden, declined to comment on Rowden's retirement.
Both Rowden and Pacific Fleet Commander Adm. Scott Swift announced their retirements in the immediate wake of the accidents. Both the commanding officers of Fitzgerald and McCain were relieved as well as senior leaders on the ships. Both the one-star Reagan strike group commander and the head of the Japan-based Destroyer Squadron 15 were relieved, as well as the three-star head of the U.S. Navy's 7th Fleet in Japan.
Rowden made leading a renaissance in surface warfare the pillar of his time at the helm, calling for his ships to shift from a primarily defensive mission to developing offensive capabilities and tactics in order to complicate the calculations by potential adversaries in the Pacific theater.
He oversaw the reorganization of the littoral combat ship program, moving from a complicated manning system that split three crews between two ships to a blue/gold crew model, dividing two crews between each ship.
He also moved the program away from rapid switching out of mission packages to single-mission ships where the crew were experts in their warfare areas, be it mine warfare, surface warfare or anti-submarine warfare.
But over the past year, his command has been shaken by questions about how much he knew about ongoing readiness issues in 7th Fleet and how much he did to ward off the disasters that befell McCain and Fitzgerald.
In his final speech to the Surface Navy Association annual symposium last week, he called on the military to give the Navy more ships and ease its commitments to fix the issues uncovered by the reviews conducted by U.S. Fleet Forces Command and the secretary of the Navy.
Rowden said the sailors he spoke with in the Pacific told him they need more support.
"They need help, and by help, they mean time," Rowden said of his sailors. "Time to maintain their gear, time to refresh their basic individual and team skills, and time to unwind. Time will only come from two things, or a combination of them: more ships and fewer obligations. It is hard to see things any other way."
David B. Larter was the naval warfare reporter for Defense News. Before that, he reported for Navy Times.
Share: