A key Senate panel advanced the nominations of the top uniformed leaders for the Air Force and Navy this week, but lawmakers warned that actually finalizing their confirmations may still take some time.
Senate Armed Services Committee members backed Adm. Lisa Franchetti for the position of chief of naval operations and Gen. David Allvin for the role of chief of staff of the Air Force as part of routine panel work Wednesday. The two nominees to join the Joint Chiefs of Staff were accompanied by 36 other general and flag officer promotions.
Last week, the Senate confirmed Air Force Gen. Charles Q. Brown to serve as the next Joint Chiefs chairman, Gen. Randy George to serve as Army chief of staff and Gen. Eric Smith to serve as commandant of the Marine Corps. The three promotions were the first defense confirmations advanced by the Senate since early February, a delay caused by political fights over the Defense Department's abortion access policy.
After the trio of confirmations, several Democratic lawmakers predicted a rush of approvals for the 300-plus senior military posts still awaiting votes. But on Thursday, Senate Armed Services Committee Chairman Jack Reed, D-R.I., said chamber leaders are currently focused on budget work instead.
"At this point, we are preoccupied with trying to keep the government open," he said.
RELATED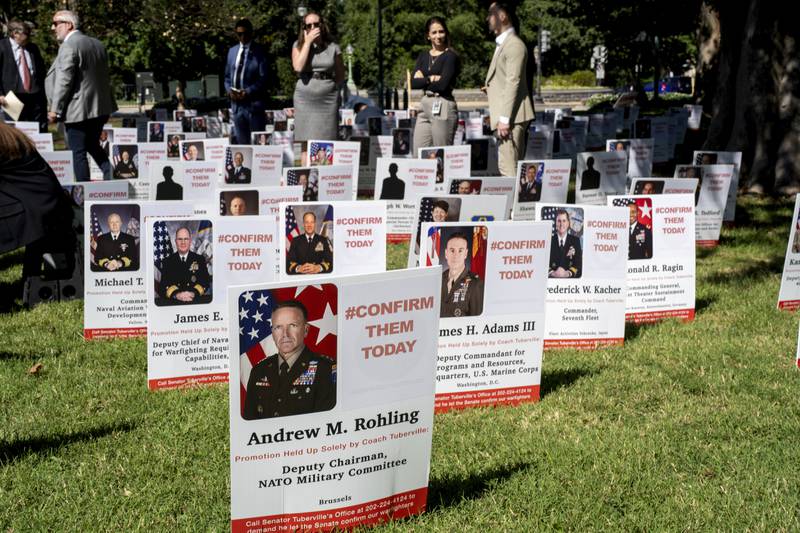 Most federal agencies will shut down non-essential services starting this weekend if House and Senate lawmakers can't reach a deal to extend the federal budget beyond Sept. 30. The Senate is expected to use floor time over the next few days to vote on potential appropriations bills rather than advance any defense nominations.
Even if Senate leaders wanted to push for final votes on the new posts for Allvin and Franchetti, it remains unclear whether they would be able to. Sen. Tommy Tuberville, R-Ala., on Thursday said he has no plans to allow his colleagues to fast track votes for the two Joint Chiefs posts.
"If they want to approve them, they're going to have to do them individually," Tuberville said.
Tuberville has been blocking expedited consideration of senior military nominations since February due to his objections to Pentagon leaders providing travel stipends and leave time to troops seeking abortion procedures. In the past, non-controversial military promotions have been approved by senators in large groups, speeding up the process.
But Tuberville's procedural blocks have prevented that. The chamber still could bring up each of the 300-plus nominations individually, but officials from the Congressional Research Service have said clearing the whole backlog would take more than three months of debate time if senators focused solely on that work.
Franchetti has been serving as acting chief of naval operations since mid-August, when Adm. Michael Gilday stepped down from the post. Allvin, the vice chief of staff of the Air Force, will take over the top uniformed service post in an acting capacity when Brown steps into the Joint Chiefs Chairman post this weekend.
Reed said he is hopeful that lawmakers can find a way to advance their nominations soon, but could not give a timeline when that might happen.
"The plan is to get everyone confirmed, because these roles are critical," he said.
Leo covers Congress, Veterans Affairs and the White House for Military Times. He has covered Washington, D.C. since 2004, focusing on military personnel and veterans policies. His work has earned numerous honors, including a 2009 Polk award, a 2010 National Headliner Award, the IAVA Leadership in Journalism award and the VFW News Media award.
Share: