Builder 2nd Class Marco Valdovinos has been to many a funeral.
As the funeral guard district coordinator for Navy Operational Support Center Moreno Valley, California, where he oversees a team of 35 funeral honor guardsmen, he has rendered honors for veterans, active-duty service members and those killed in action — some 6,500 funerals in the past five years.
But on April 23, he'll take part in a ceremony that hits close to home. He'll help render final military honors for Cesar Chavez, the legendary labor organizer, civil rights activist and Navy veteran.
Not long ago, Valdovinos went to see the film "Cesar Chavez," a biography directed by Diego Luna. It mentioned that Chavez spent two years in the Navy, from 1944 to 1946, hoping to learn skills that would help him later in his civilian life. At the time, however, Mexican-American sailors could only serve as deckhands and painters, and Chavez got out as quickly as he could, calling it "the worst two years of my life."
But the film got Valdovinos thinking: Did Chavez receive military honors during his funeral in 1993?
After extensive research into military records and online, he decided to visit Chavez' brother, Librado, in San Jose.
"I went out there in uniform and knocked on the door and introduced myself, and I said, 'Sir, I understand that your brother served in the Navy.' "
A somewhat startled Librado acknowledged that Cesar did serve in the Navy, and that Librado had been at his funeral.
"And I said, 'Was there any military presence there at the funeral?' "
"Nope, nothing at all," Librado told him.
"Well, if all goes well, I'd like to offer the rendering of final military honors due to your brother," Valdovinos said.
A month later, Valdovinos received a call from Chavez's son, who continues to oversee the Cesar Chavez Foundation. He said the family was honored and grateful, and had chosen the anniversary of Chavez's death, April 23, for the ceremony. The late labor leader has also been honored as the namesake of a Navy dry cargo and ammunition ship.
It's to be held at 10 a.m. Thursday at the Cesar E. Chavez National Monument in Keene, California. The 116-acre property was the headquarters of the United Farm Workers, which Chavez helped found, and was his home from the early 1970s until his death. Chavez is buried there.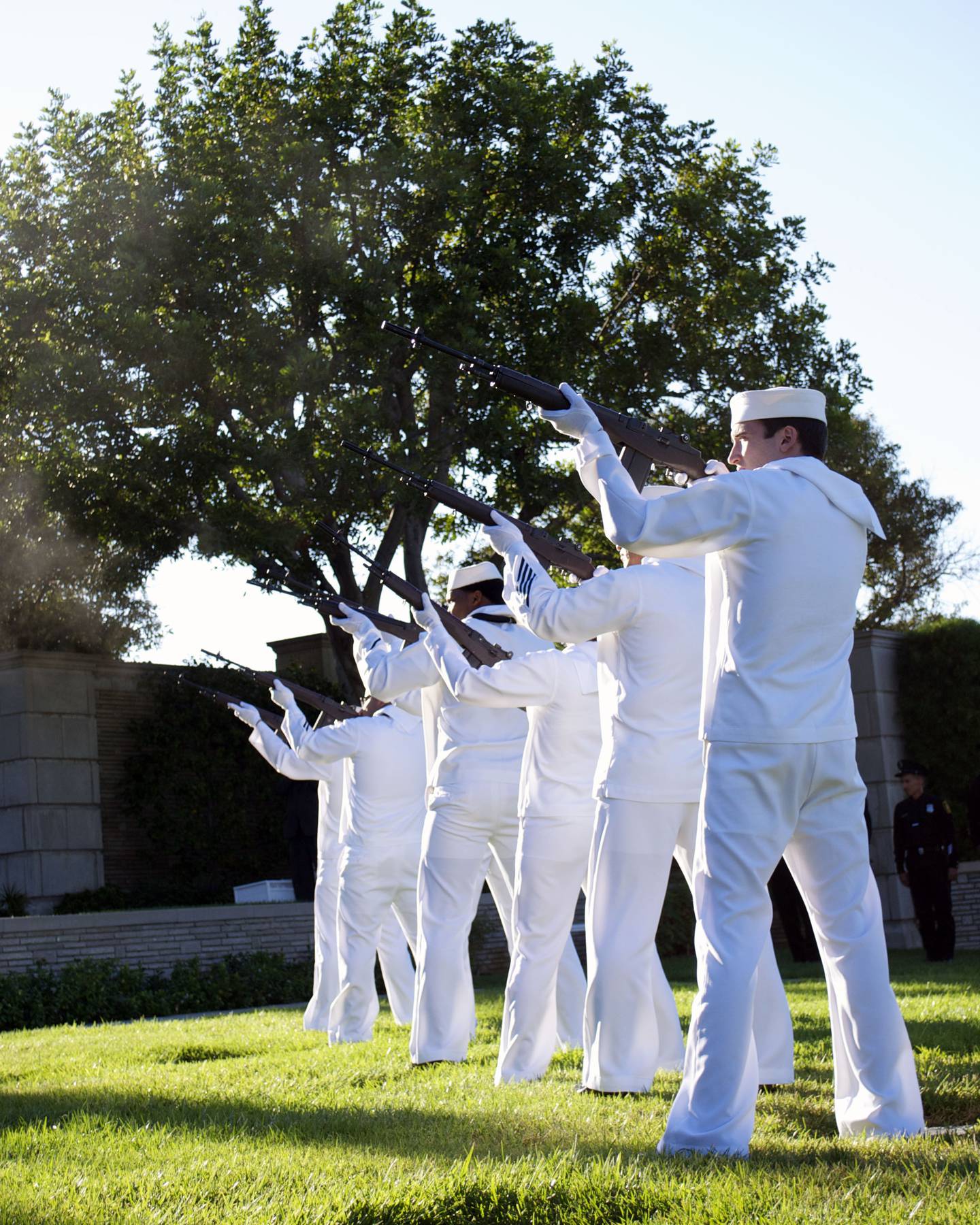 A funerary rifle squad attached to Navy Operational Support Center Moreno Valley offers a 21-gun salute for the late actor Ernest Borgnine in Hollywood, Calif., in 2012.
Photo Credit: PO1 Christopher Okula/Navy
The family has opened the ceremony to all veterans, and invited local Veterans of Foreign Wars and American Legion members and others.
The honor guard will include a rifle team, and about 20 members have volunteered to take part, he said.
"This will be a very special day for me because of the parallels in our lives," Valdovinos said. He and Chavez have the same birthday, March 31, attended the same middle school in San Jose, and both picked fruit and vegetables.
"My parents met him in the '80s,"Valdovinos said. "Mr. Chavez would come to the flea markets in San Jose to speak to the produce vendors."
When he was young, Valdovinos and his father would pick fruit and vegetables in Central California and sell it to vendors at the flea market.
"I also experienced my share of discrimination, growing up in San Jose, and I am proud that Mr. Chavez took a stance for equality and the fair treatment of all," Valdovinos said.
Share: