Chiefs now have a shot at being a command leader one rung earlier.
The Navy unveiled command senior chief as a new rating in late July. The move formalizes the role of the command senior chiefs into their own rating, that will feed directly into command master chief.
In the decade that senior chiefs have filled billets as command senior chiefs, they've had the option of going back to their rating in follow-on jobs. But most have preferred to go onto command master chief jobs, replacing their rating badge with a star. all have typically had the option of 10 years since the Navy started assigning senior chief's formally as command senior enlisted sailors, only two of the hundreds of selectees have ever returned to their original rating — and very few have ever been . 
As a result, the Navy announce July 29 in NavAdmin 177/15 the creation of The command senior chief rating, or CMDCS in the Navy's abbreviation, — which will now formally feeds top enlisted sailors into the command master chief program with the creation of a new rating — Command Senior Chief — or CMDCS in the Navy's abbreviation vernacular. 
"When the program was created 10 years ago, the option was left open for sailors to do a tour and revert back to their source rating," said Master Chief Petty Officer of the Navy (AW/NAC) Mike Stevens in a July 28 interview. "All we're really doing is taking away the option to revert back to their source rating."
Those already in the program have until Aug. 31 to opt into the new rating by submitting a form 1306 with their CO's approval to the command master chief detailer at Navy Personnel Command, which will makes their rating conversion formal. 
Those who decline to make the switch will be allowed to complete their current command tour. AfterwardsOnce it's done, their 9578 Navy Enlisted Classification will be removed and they'll be reassigned back to their their original rating's detailer for follow-on orders. 
Command senior chiefs typically serve at smaller commands that don't have a CMC billet. Officials expect most of today's CSCs to make the formal switch. iThe Navy isn't expecting many if any takers. 
"To my knowledge we've had only two command senior chiefs revert back since the program began," Stevens said. "They never go back to that source rating, they stay a command senior chief until they either become a command master chief or they retire — so really they've shown us with their actions that the decision to create the rate is the right one."
Sailors currently collecting selective re-enlistment bonus for their current rating could have to pay back a pro-rated portion of their bonus if they're more than 90 days from completing their enlistment they collected it for.  
Though The rate change will be quick, but command senior chief's will still wear their source rating sleeve insignia awhile longer. The command senior chief badge isn't likely to be ready until late 2016, ready, Stevens said, and that's expected to be available in exchanges no later than Oct. 1, 2016, but possibly sooner. 
In the meantime, the next set of sailors selected for the program from the January, 2016 board will also be allowed to convert to the new rating upon selection, also by submitting the 1306 personnel action form. 
If they drop from training for any reason, they'll simply revert to their source rating. But once trained and in a billet, there's no looking back.
'What I've been hoping for'
Other than the new name, the program is essentially the same. Selectees attend those selected for the have the same training pipeline which includprogram es the senior enlisted academy and the CMC and chief of the boatCOB course. Both are held in Newport, Rhode Island.
There are currently 70 total command senior billets, split between 30 sea duty billets and 40 ashore. All command senior chief tours are 36 months.
Over time, officials say, billets in the command senior chief program are expected to grow as more littoral combat ships enter the fleet, with each LCS crew to have an E-8 ill carry an E-8 as senior enlisted leader. 
Next year's master chief selection board in March scheduled for March, 2016 will be the first to consider command senior chiefs with enough time-in-grade. with enough time in grade eligible command senior chief's for selection to master chief. 
"This is where we've still got some work left to do," Stevens said. "We still want to leave the door open for good master chiefs to compete to be CMC's, but now we'll formally be selecting CMC's during the master chief selection board and we need to also strike a balance in how we set quotas — how many do we promote from the CMDCS rating and how many opportunities do we give for current master chief's to enter the program as well?" 
Eighty Of the roughly XXX CMC billets, 80 become vacant each year. Over the past two years, competing in their source ratings, eligible CSCs have advanced to E-9 at about command senior chiefs have advancing to master chief at a rate of about 50 percent. Now that they'll be competing against themselves — and with a quota structure yet to be developed — it's unclear how that percentage will be impacted. 
TalkNews of the potential rating establishment has been moving around the CSC community ever since the Navy started investigating the possibility in 2012. 
"This is what I've been hoping for since I entered the program," said Senior Chief Sonar Technician (Surface) (SW/AW) Chuck Eakley, the top enlisted sailor on the frigate Kauffman.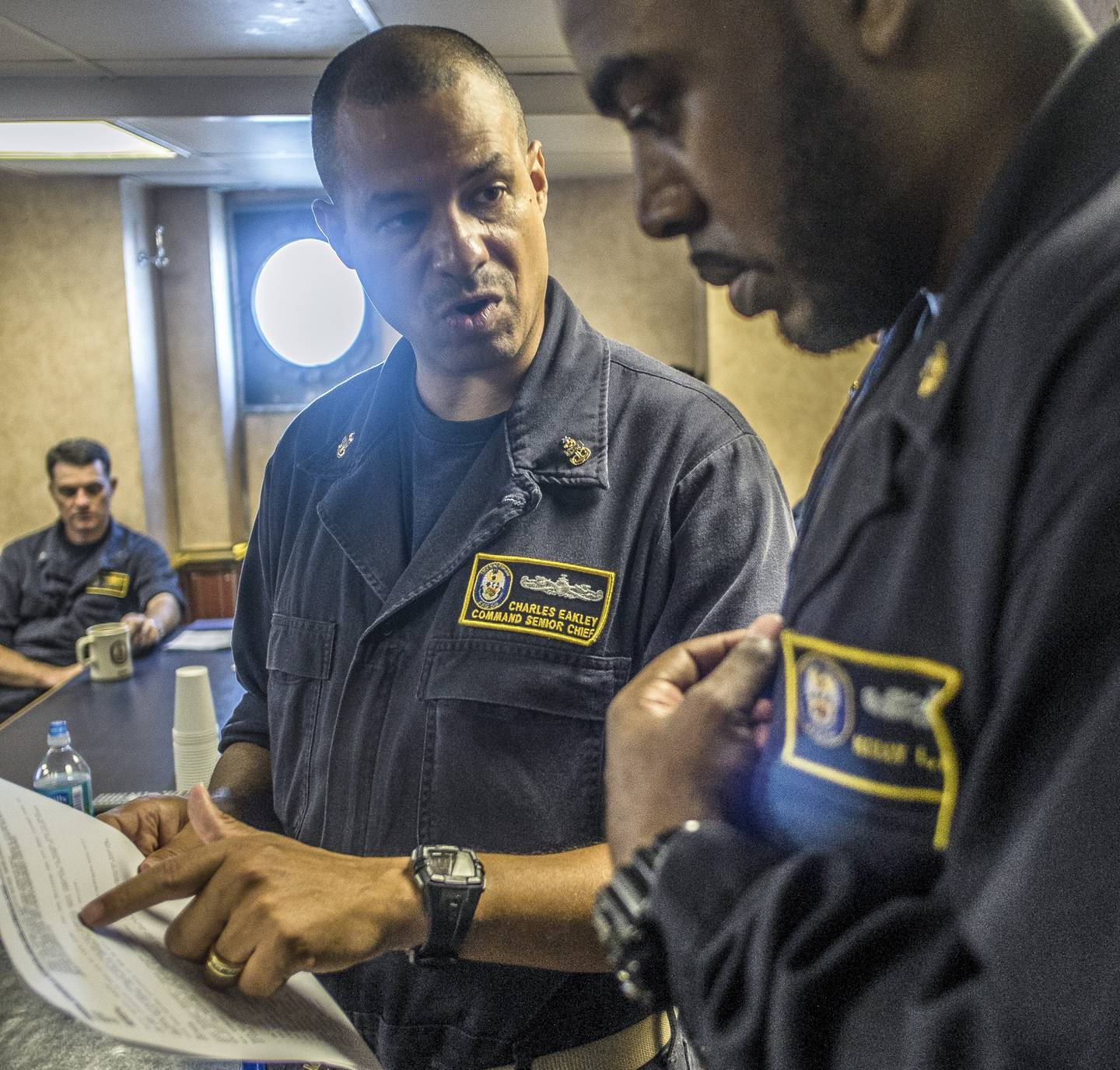 Senior Chief Sonar Technician (SW/AW) Chuck Eakley, left, served as the command senior chief on the frigate Kauffman, and says he wants to switch to the new CSC rating. "This is what I've been hoping for since I entered the program," he said.
Photo Credit: Mark Faram/Staff
Eakley transfers Aug. 1 and his heading to his next CSC command seniorñor chief billet at the Coastal Patrol Squadron in Bahrain.  He's in the community where he wants to spend the rest of his career. and says he's in the community now where he belongs and plans to stay. 
"It was my intention that I was in this program until I either made master chief or I retired," he said  told Navy Times in a July 29 phone interview with Navy Times. 
Eakley says he is working on his conversion request. Obviously, he's hoping to become a command master chief and keep going in this line of work, though — but it starts with getting his request to convert sent off — and he's not wasting time. 
"I've got my 1306 all ready to go and will get the CO to sign it and send it off to NPC before as soon as it's official and before I transfer," he said.
The impact on the Navy is also expected to be significant, Stevens says.
Since the program began in 2005, ratings with sailors serving as CSCs have affected their source rating numbers, even though most of them were competing for CMC. ratings with sailors selecting to be command senior chiefs are forced to take that billet "out of hide" as the Navy says — so essentially they're losing that billet to someone not contributing to that rating on a day to day basis. 
"Fortunately, this will no longer be the case as once a sailor selects to CSC, and converts, that opens up advancement opportunity in that source rating," Stevens said.
For those in the program, too, it takes away any uncertainty they might face in working out of their rating as they are competing for master chief, according to Command Master Chief (SW/EXW/AW) Scott Kelley, currently the command master chief for the Naval Surface Forces Atlantic staff, where he's responsible for overseeing about 500 enlisted sailors.
Kelley also helps the SURFLANT force master chief in supporting the force's tenant command CMC's on the waterfront. 
"Even though there's a good selection rate overall, individually I believe we all felt some apprehension when competing in our source rating for master chief," he said. "I was an [electronics technician] and the question that went through my mind was, 'Why would the ET master chief's sitting the board want to select someone who wasn't [a] contribution to the community?' That thought was always in your head."
And for Eakley, who hopes to advance to CMCcommand master chief, competing against his peers is a better position to be in.
"They'll now be comparing apples to apples, instead of apples to oranges," Eakley said. "It's the best thing for the CSC community and of course our original ratings are no longer being taxed out of a billet."
Kelly was in the second group selected to command senior chief in 2006 and hasn't looked back. He says his career has definitely benefited from an early chance to learn the job of a command senior enlisted sailor.
Sailors make master chief, on average Navy-wide — at the 21 to 22 year mark in a career.  Leaping into a CMC billet can be overwhelming for some at that level.
Kelly credits his success over five different command senior enlisted tours to the fact he got the chance to start early learning the ropes.
He says that many of his peers currently in CMC billets came up through the CSC program. In his time on the waterfront, he sees the benefit of his ability to learn how to handle enlisted command billets over that time.
Because the convert into the program later and have to battle a steep learning curve, Kelly say most command master chief's do only one or two tours before retiring.
But he credits his success and longevity in a career that's now reached 28 years and climbing to that early start.
"I started as a frigate command senior chief and that was a good way to learn the job and this type of job allows senior enlisted sailors to learn the business of leadership at the command leadership level through successfully more challenging billets," he said.
"Being a frigate CSC prepared where I had a couple hundred sailors prepared me to  me to move on to Norfolk Naval Shipyard where I had 9,000 civilian 1,500 sailors — had I not had the frigate and nuance of leadership education there, I doubt I'd have made as smooth transition to have the successful follow on tours that I have had."
Mark D. Faram is a former reporter for Navy Times. He was a senior writer covering personnel, cultural and historical issues. A nine-year active duty Navy veteran, Faram served from 1978 to 1987 as a Navy Diver and photographer.
Share: