NAS OCEANA, Va.— Fighter jocks aren't the only Blue Angels who challenge the limits of capability and precision. The team's maintenance and support crew also takes pride in pushing the envelope with a C-130 Hercules, and on Friday they took Navy Times along for the ride.
The quad prop affectionately known as "Fat Albert" is flown by a Marine Corps crew of three pilots and five enlisted aircrew. In the left seat this day was Capt. Katie Higgins, the Blue Angels' first female pilot. Don't let her small frame and courteous smile fool you — she was ready to give her passengers an eight-minute taste of the 400 combat flight hours she tallied in Afghanistan and Africa.
Three dozen sailors lined the cargo hold behind her. This was an incentive ride for jobs well done. The barf bags handed to each passenger suggested Higgins would make it memorable.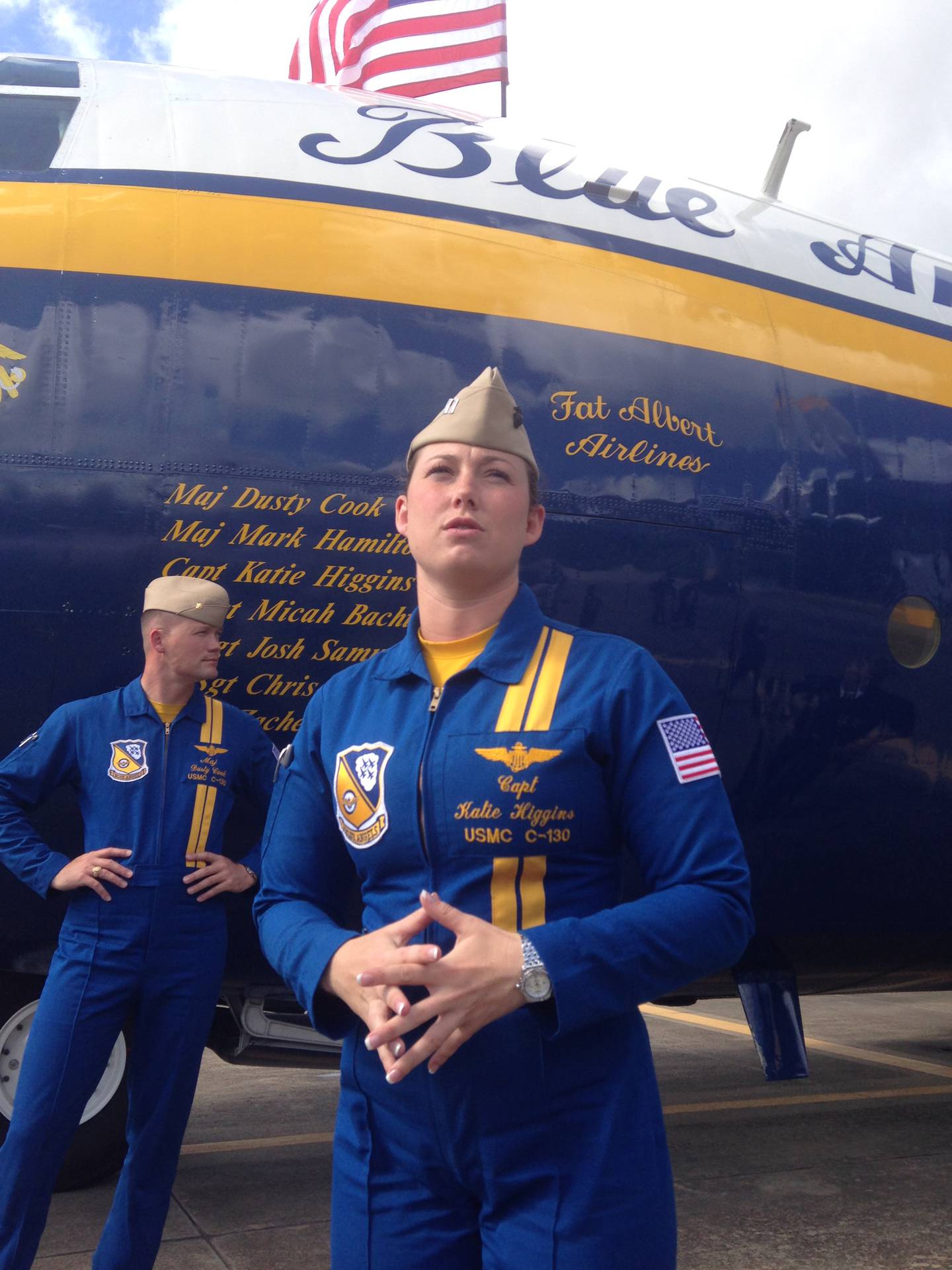 Blue Angels C-130 pilot Capt. Katie Higgins.
Photo Credit: Lance M. Bacon/Staff
The takeoff was typical; Fat Albert held steady just three 3 feet from the ground as it accelerated to 190 mph. Then in a maneuver designed to get out of small arms range, Higgins pulled the bird 45 degrees nose-up and gained 1,000 feet in a matter of seconds. Just before hitting stall speed, she pushed the aircraft 110 over the top and created zero gravity — the first of many times the bird would echo with the cheers and fears of its passengers.
She entered a 60-degree holding turn, followed by a 60-degree reverse turn in excess of 2Gs (this is when the tell-tale white barf bags first appeared). The maneuver set up the parade pass, in which the C-130 roared near the crowd line at 200 feet and a 45-degree angle. Higgins pulled another 2Gs on the egress. At 10-degrees nose-up, Fat Albert leveled at 1,000 feet. Two miles from the flight line, a third 2G-turn set up a flat pass at 40 feet and 370 mph, followed by a head-on approach at 200 feet.
This reporter lived through a few corkscrew combat landings in Bagram months into that war, (one was in near-zero visibility with a Spanish C-130 crew, and those may well be the craziest pilots in the world … but that is another story). Needless to say, transport landings are no longer impressive. This time, however, I was impressed. Higgins slowed the bulky bird to just over 100 mph and pushed over 25-degrees down to descend 1,000 feet in mere seconds. She smoothed out (it seemed like she had only inches to spare before hitting the deck), then demonstrated max-effort breaking. The bird came to a screeching halt in less than 1,000 feet, and left two thick skid marks down the runway center to prove it. 
"Thank you for flying Fat Albert Airlines," said Gunnery Sgt. Micah Bachtold, flight engineer. "We hope you enjoyed your flight."
Indeed, we did. The smell of burning rubber as the rear ramp opened drew even greater adulation from the passengers.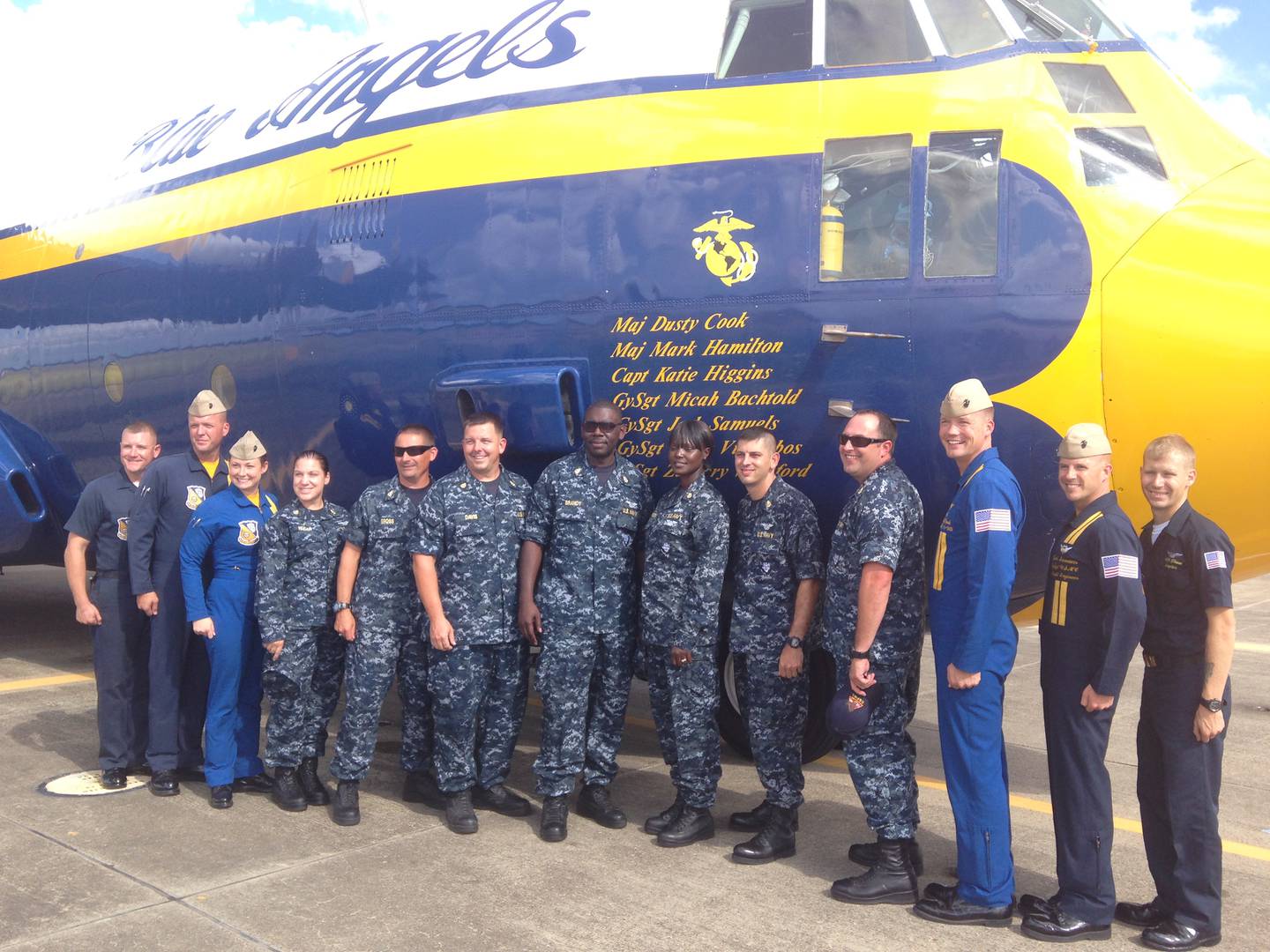 Some of the passengers and crew on the Sept. 18, 2015, "Fat Albert" flight.
Photo Credit: Lance M. Bacon/Staff
Though it may not get the attention of the F/A-18 Hornets, Fat Albert is far more than a performer. This 24-year-old C-130 is the Blue Angels' workhorse. It flies more than 100,000 miles each season to deliver 45 maintenance and support personnel as well as the team's specialized equipment to roughly 35 airshows each year. If something breaks, Fat Albert flies to the nearest supply point (and must be ready to perform the next day).
Back on the ground, Fat Albert's crew posed for photos with passengers and thanked each sailor and Marine for their service. The boldness Higgins displayed in the cockpit quickly rescinded into humility as she discussed her pioneering role as the team's first female pilot.
"It is definitely an honor," said Higgins, a Naval Academy grad who earned her wings in 2011 and joined the team in 2014. "It is great to be able to talk to those little boys and little girls on the flight line and let them know women and men can do whatever they put their mind to, including becoming a Blue Angel pilot."
The team has endured some turbulence in recent years. One skipper was fired in 2014 as the Navy chided a raunchy culture that had emerged in the ranks, and included instances of sexual harassment and lewd practices.
Higgins said females need not worry about dealing with such culture today.
"The team has been 100-percent supportive of me, and the other 19 females that we have on this team," she said. "We have had women in the Blue Angels since 1969, so we have a very long legacy on this team. I would encourage anyone who is thinking about applying to the team to definitely throw their hat in the ring."
Share: