NAVAL STATION NORFOLK, Va. — For the first time in 12 years, every HH-60H Rescue Hawk helicopter flier with member of Helicopter Sea Combat Squadron 84 is home. Sailors from Detachment 1 of the shadowy special operations support squadron redeployed Oct. 8 from U.S.Central Command, likely the last rotation the squadron will ever send.
Members, family and supporters gathered in the squadron's hangar Friday morning to honor the squadron's accomplishments over the last decade, with an eye toward an impending likely command shutdown early next year. The decorated squadron is one of only two Navy helicopter commands dedicated to special operations aviation missions, such as inserting operators covertly into dangerous war zones.
"Whether it was flying direct action missions during Operation Iraqi Freedom, or being our forward-deployed ready force in the [U.S. Central Command area of responsibility] CENTCOM AOR sitting alert waiting for the call to go forward, the Red Wolves have been fully prepared to do our nation's work," said Rear Adm. Mark Leavitt, commander of Naval Air Forces Reserve. 
HSC-84 sent a detachment of HH-60H Rescue Hawk helicopters and crew to CENTCOM in 2003 in support of OIF. Then-U.S. Special Operations Command boss Adm. Eric Olson requested that 84 and its West Coast sister squadron, HSC-85, be shifted to full-time special operations support.
After more than a decade of continuous deployments, HSC-84 and its overseas detachment have earned three Distinguished Flying Crosses, 13 Bronze Stars, 120 Air Medals with Valor, more than 14,000 strike/fight awards and over 18,000 flight hours, including more than 14,000 in combat against 732 high-value targets, said squadron commanding officer Cmdr. Quinton Packard.
Back home, 84 and 85, which are Reserve squadrons manned by both active-duty and Selected Reserve personnel, spent their time training with SEAL teams on combat insertions and extractions as well as personnel recovery.
It was a bittersweet occasion for the squadron, members told Navy Times, because though they were celebrating a homecoming, a likely disestablishment is the reason for Detachment 1's return.
Several years of back and forth between the Navy and SOCOM over who would fund these Navy-operated, jointly utilized forces ended in a decision to shut down outlined in the Navy's fiscal year 2016 budget proposal.
told Navy Times in an Oct. 15 phone interview,
"We've kind of been on-again off-again, especially with the congressional pause over the period of my command, which has been a little frustrating for the sailors because they're trying to negotiate for orders, but at the same time, they're not sure if they're staying here or going somewhere else," Packard said in a phone interview a day before the ceremony.
As of Oct. 16, he said, he is preparing the squadron for a March shutdown. Unless a final congressional decision in the National Defense Authorization Act keeps the squadron open, they will stop flying by the end of November.
Some of the squadron's 14 original helos are bound for HSC-85, while others will end up in the Navy's aircraft boneyard at Davis-Monthan Air Force Base, Arizona, as the older airframe is phased out.
'Bittersweet'
There is a possibility, according to Congress' latest defense authorization bill, NDAA mark-ups, that the Navy will retain some of these SOF-specific skills in the form of tactical support units on each coast, which will train operators stateside but not deploy as they have been.
"It will be a shore tour," Packard said. "They'll be flying with pilots from the other squadrons on the sea wall in the SOF and PR mission sets."
Some are concerned about the efficacy of those units, however.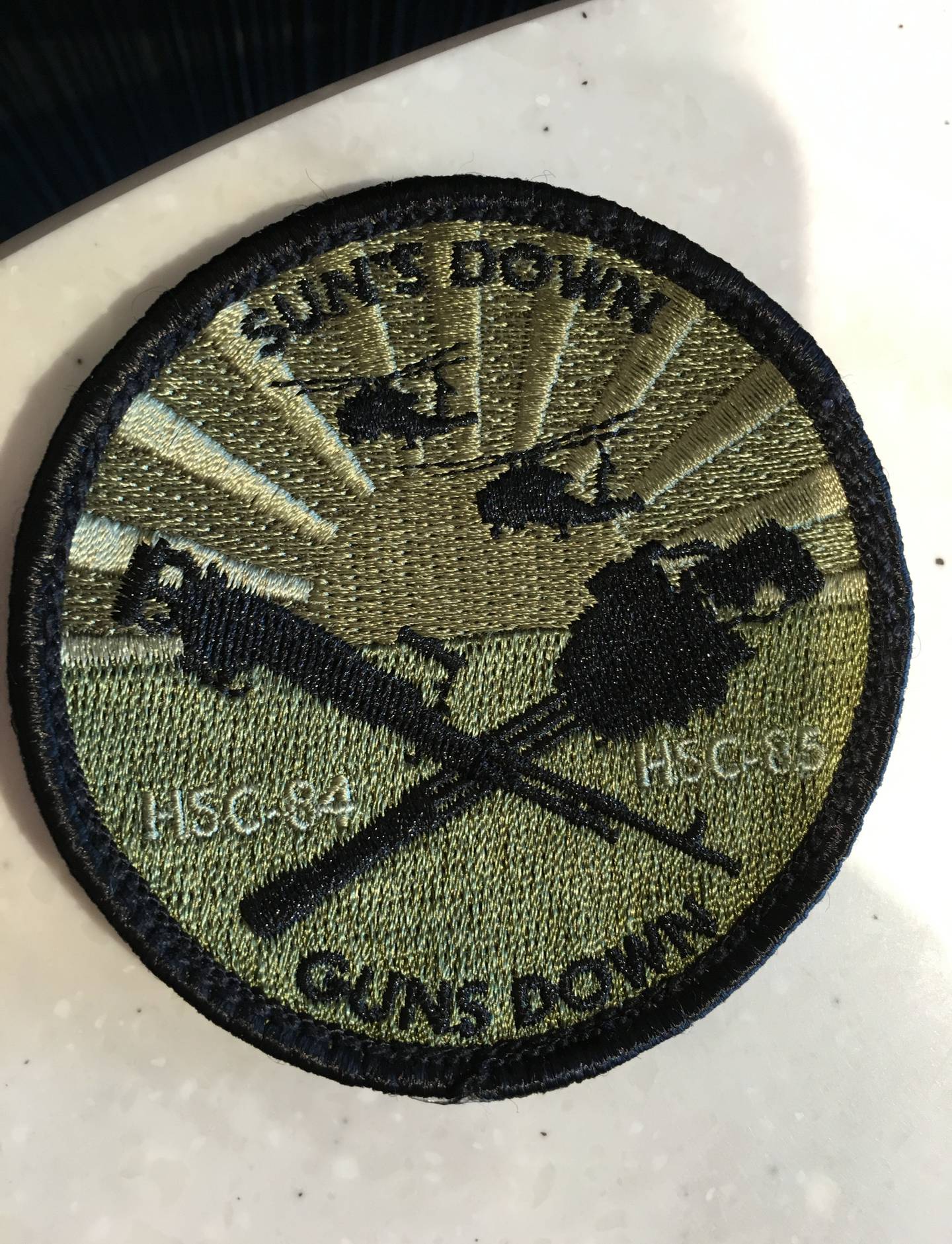 A patch commemorating the likely shutdown of HSC-84 and HSC-85 in 2016. These secretive helo squadrons are the Navy's only two squadrons dedicated to flying special operations missions.
Photo Credit: Meghann Myers/Staff
"We have a major issue with these TSUs, as they are really just manpower pools for all the [full-time support]FTS and SELRES reserve personnel to hang their hat," retired Capt. Sean Butcher, a former HSC-84 CO, told Navy Times.
Keeping those detachments alive would be a plus for many of the squadron members who have been assigned to 84 for decades, who could use their skills at a TSU.
For others, the likely end of 84 altogether will mean moving on. One pilot, who's been assigned to the squadron since 1996, is looking at retirement.
"Reserve, at a squadron like this, does not mean one weekend a month and two weeks a year," said Cmdr. Leon Garber, who has served as combat mission lead, department head and twice as executive officer while deployed with the squadron. "As a pilot, reserve time would be five or six days a month and at least 30 days a year of active-duty for a couple weeks at a time, going on training detachments."
He is optimistic though, that though the SOF support mission will change forms, it won't diminish completely.
"This wing is committed to taking the HSC-84 veterans and getting them flying with the fleeting squadrons and the weapons school, and pressing that capability down to the fleet," he said.
For younger sailors, the shutdown means moving on to elsewhere in the fleet as well as learning a new airframe, because 84 and 85 are the last units to fly the HH-60H Rescue Hawk.
"It's really bittersweet, because it's my first squadron," Naval Aircrewman 2nd Class (AW/NAC) Francisco Toledo, who's has spent five years at 84, told Navy Times.
"It's hard for me because it's all I know, I have a lot of sentimental ties to this place," he added.
Toledo is headed for Naval Air Station Whidbey Island, Washington, to work with their search and rescue command. It's a similar job to what he's trained on, he said. But it does mean learning the newer MH-60S Knighthawk helo.
He's not nervous, he said, but, "I think it's more of a pain in the butt that I have to go to school again."
The squadron has cutreduced a third of its original 420 personnel this year, Packard said, through regular changes-of-station rotations and retirements. The remaining sailors are mostly bound for TSUs or fleet squadrons.
A final decision on the future of the Navy's SOF-support capabilities rests with Congress and the defense authorization bill, Leavitt said.
Meghann Myers is the Pentagon bureau chief at Military Times. She covers operations, policy, personnel, leadership and other issues affecting service members. Follow on Twitter @Meghann_MT
Share: