At first blush you might think the cruiser Lake Erie's goat, Master Chief Charlie, was out of place on a warship. But You'd be wrong. Charlie's presence was as firmly rooted in Navy tradition as the jack staff or the ship's bell.
Don't believe it?
Type "goat" into the search bar on Naval History and Heritage Command's website and prepare to graze on new informationbe blown away. The archives are chockablock with images pictures of sailors and goats from every era since cameras first made their way on ships in the 19th century.
Goats have shipped out on warships dating back to and boats have sailedgone together for centuries and date back to the days before refrigeration when sailors needed livestock on ships for milk and meat. And The sure-footed quadrupeds were the ideal candidates for animals for the heartyseagoing life. Smaller and easier to feed and clean up than a cow, and they're first-class swimmers. and cheaper than a cow and, as an added bonus, goats are excellent swimmers!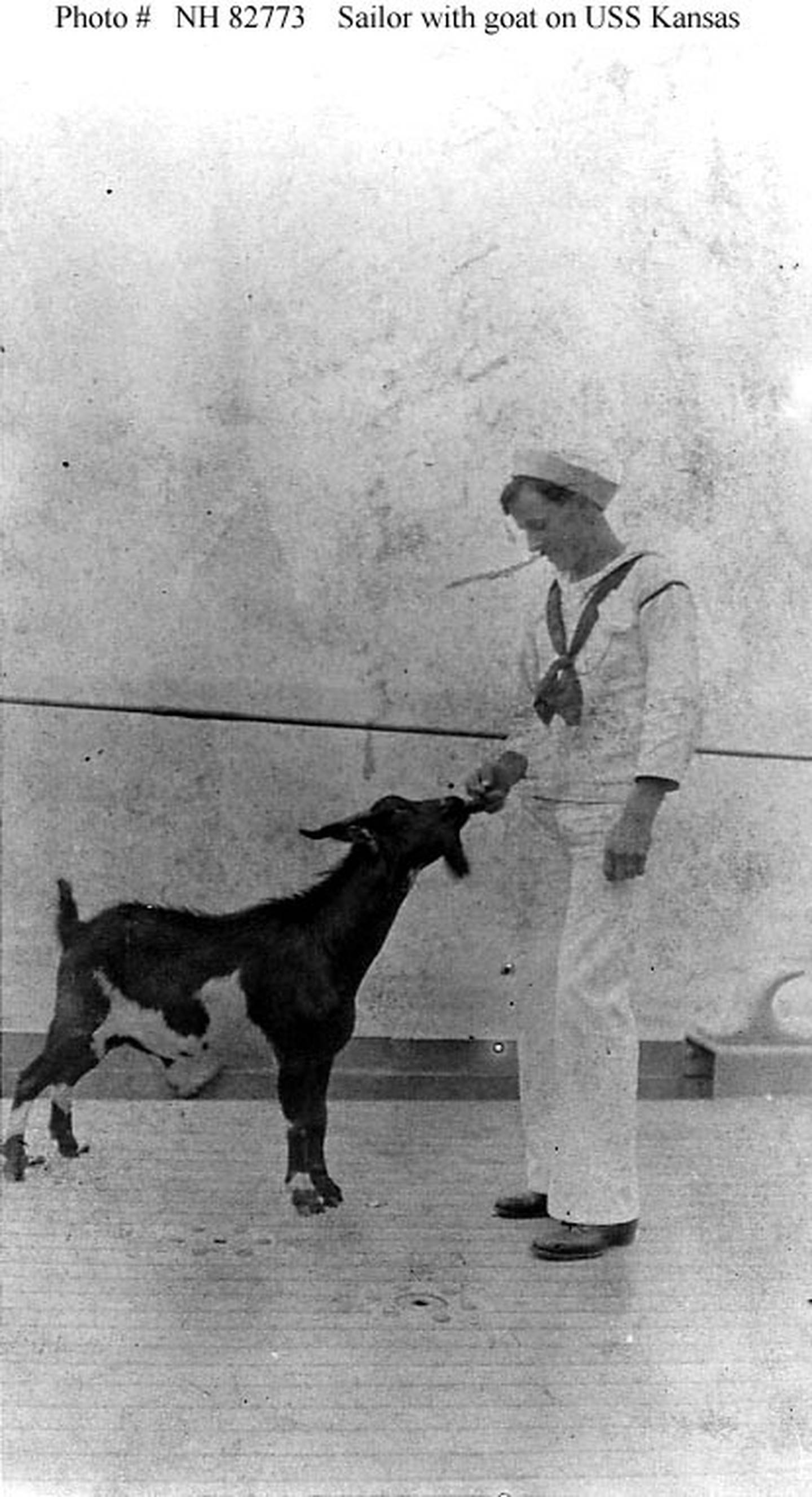 A sailor petted the ship's goat in 1908 aboard the battleship Kansas. For sailors, goats have provided both a morale boost and time-consuming chores.
Photo Credit: Naval History and Heritage Command
But As better food preservation and storage technology came into the fleet, the need for goats on ships abated, leaving only but the need for furry morale boosters remained steadfast. By 1893, the goat had become the de facto symbol of the U.S. Navy when it was adopted as the U.S. Naval Academy's mascot, according to the Naval academy's website.
Bill the Goat, a full-scale not pygmy goat, lives on a farm nearby Annapolis and is cared for by a volunteer group of midshipmen. the Academy's grounds and is cared for by a volunteer group of middies. The USNA mascot is actually two goats, Bill XXXIII and Bill XXXIV, as the Navy believes in building redundancies into anythe system.
Master Chief Charlie, the pygmy goat adopted by the Lake Erie, is rumored to be grazing on an undisclosed San Diego farm; he's been disinvited from mascot activities by in the San Diego area but was banned from further mascot activities on Lake Erie by Rear Adm. Dee Mewbourne, the former then-head of Carrier Strike Group 11.
Charlie may have been good for morale, he had become b-a-a-a-d distraction, Mewbourne decided, and imposed a ban on pets and live mascots across his carrier strike group.
Mewbourne decided in his endorsement of the investigation into the command climate on board Lake Erie that while  Mewbourne, therefore, banned pets and live mascots strike-group wide.
No word has emerged on Charlie's retirement grade determination or the nature of his discharge from active-duty service.
David B. Larter was the naval warfare reporter for Defense News. Before that, he reported for Navy Times.
Share: