He's filled thousands of open fleet jobs, ushered in new long-deployment pay, and eased body fat standards.
Now the Navy's personnel boss is targeting big changes to petty officer advancement and your bonuses with an aim of retaining the best talent as the serviceNavy adopts the new retirement system in two years. and giving skippers even more Thirty months into the job, Vice Adm. Bill Moran, the Navy's top uniformed personnel officer is just hitting his stride. 
"The ability to put the quality inside of our calculus and be able to tailor our compensation packages and tailor a compensation approach to retaining talent  — we are going to have to do that with this new retirement program," Chief of Naval Personnel Vice Adm. Bill Moran said. "It starts in fiscal year 2018, two years from this January. We are going to have to be ready to look at it differently."
In nearly three years on the job, Moran has worked to even out opportunities as the service has emerged from a decade-long drawdown and then enlisted retention boards that trimmed the ranks lower than planned, worsening manpower shortages in operational commands.
Moran has worked to spread opportunities to once-clogged ratings and to build a sense of stability to sailors' careers following these disruptions.
"Priority wise, I would tell you nothing has changed…trust, balance, and stability — that is not going to change," Moran said in a Dec. 16 interview with Navy Times. "We always have to work on the trust side of things both up the chain and down the chain and I think we have made improvements there and we continue to work on it, that is a constant effort on our part."
Paying for fleet duty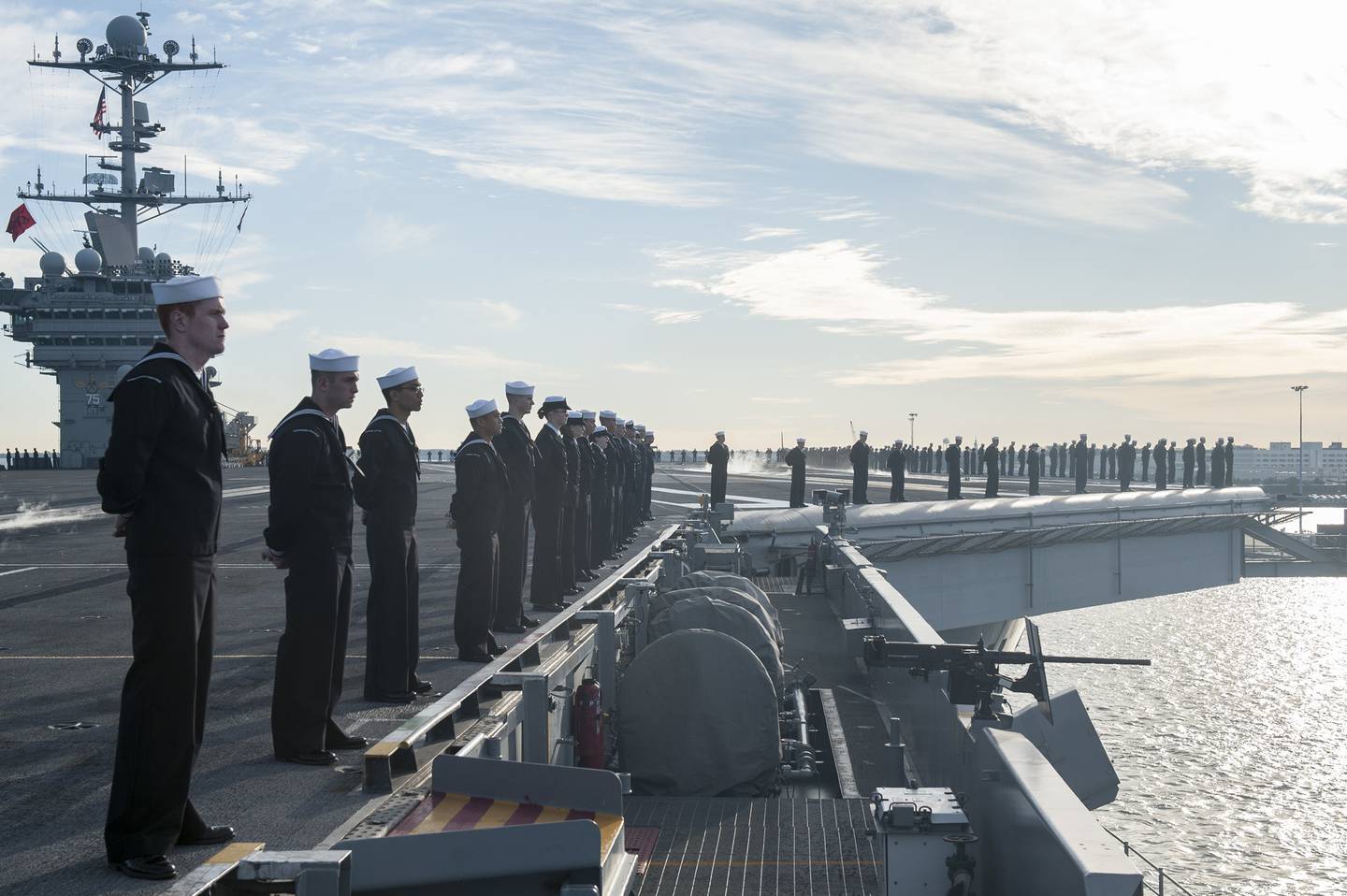 Thousands of sailors have been added to the fleet as the Navy reversed cuts that strained crews. Sailors aboard the carrier Harry S. Truman manned the rails when the carrier departed Norfolk on Nov. 16.
Photo Credit: MCSN B. Siens/Navy
In 2014, Moran hiked was able to a significant hike in sea pay approved and the sea pay premium, the kicker payments for those who spend longer than average tours on the Navy's deploying sea duty. To date, 116,878 sailors have already collected. Moran says these moves have helped fill thousands of openings at fleet commands that have persisted for years.
Another pay initiative to reward sea duty, was hardship duty pay-tempo, high-deployment pay, which pays $17 every day a sailor is deployed beyond 220 days. So far, and Moran says that, to date, about 13,000 sailors have gotten this pay, too. 
"We believe this has improved Sailors' propensity to serve at sea," Moran said in a follow-up email to the interview. "We've worked hard to improve fleet manning and over the past two years we've reduced gaps at sea significantly."
But in the long-haul, he says it will be the sea pay hike, not the deployment pay that will will benefit sailors most with deployment lengths dropping from as long as nine months. The service anticipates paying out less HDPT as fleet bosses work to keep deployments under 7 1/2-months.
Fleet manpower
Moran's detailers have made headway in closing the thousands of open fleet jobs, a left-over from downsizing ship crews that has frustrated smaller crews faced with the same amount of work.
The gap has fallen from 12,740 billets in 2012 to 1,779, according to official measurements of "fill," where manning is calculated based on the number of sailors with the proper rating and paygrade.
Moran says manning willth shift eventually to a more precise measure of manpower known as "fit," which tracks the percentage of sailors with the proper Navy Enlisted Classifications required for their job.
As of December, the "fit" level stood at 91 percent, with 11,421 billets lacking sailors with the proper NEC, paygrate and rating combination.
"We are back in a very good place across the fleet, over 98 percent filled today of all our sea duty billets," Moran said. "We are bumping up against our promise of 92 percent fit."
The Navy is preparing to launch a new detailing system to boost fleet manning. This will define every fleet billet down to the skills and training needed to reach a real "fit" standard.
"The fit number is today through a lot of manual efforts and we will see how the fit progresses under [billet-based detailing] because the command is getting a much better idea and picture of ... what that fit and what that sailor is coming to the ship with," Moran said.  
Bonuses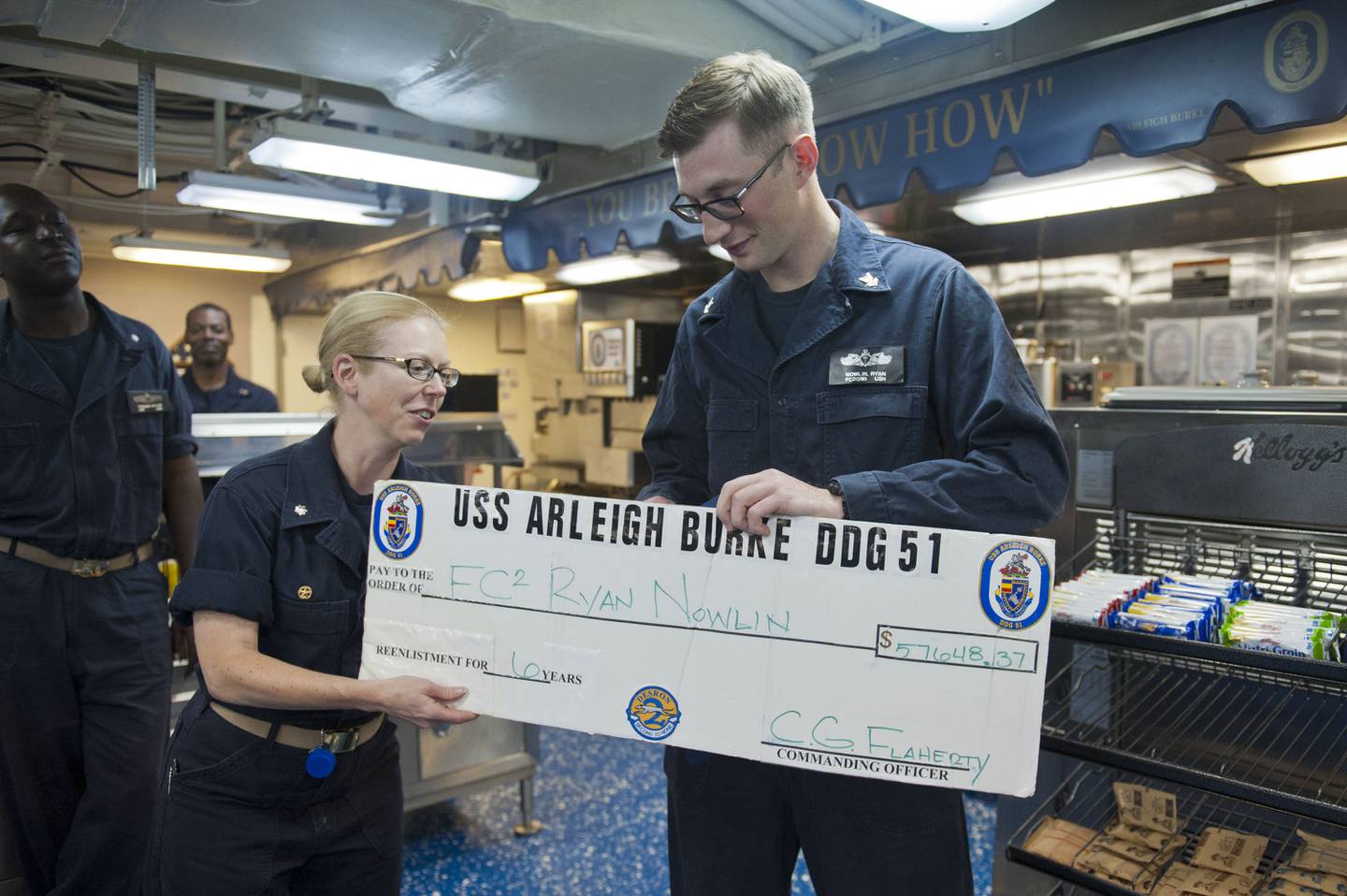 Moran wants re-enlistment packages to offer coveted schools and assignments, in addition to bonus cash. Fire Controlman 2nd Class Ryan Nowlin, a sailor on destroyer Arleigh Burke, earned a hefty bonus in 2014.
Photo Credit: MC2 Carlos M. Vazquez/Navy
Moran wants more sailors to qualify for re-up cash and wants to offer more perks as part of that contract.
That corporate-style approach is part of a larger rethink that Moran believes is needed as the service confronts a strengthening economy and, especially, a new retirement system that will replace the 20-year cliff-vesting system. The new system, which sailors can opt into, will provide retirement money for more than the one-in-five who reach the 20-year retirement today. It will offer sailors a 401(k)-style retirement savings account that the military will contribute to, with a corresponding drop in pension payments.
The Navy has asked the independent Center for Naval Analyses think tank to study potential ideas for new bonus structures. The Navy's think tank came up with ideas that melded the current selective reenlistment bonus system into a hybrid where other incentives could come into play, such as possibly assignments, professional schools and even specialty pays.
Moran says the Navy is developing plans with the new retirement system to take effect in fiscal year 2018; sailors serving before Jan. 1, 2018 will be grandfathered into the existing retirement system, but those who joined after Jan. 1, 2006, will be able to opt into the new, blended retirement system.
"We are going to have to be ready to look at it differently," he said.   "The laws and statutes that govern how we shape the force are based on the calculus that is part of the retirement system that has been around for decades."
Moran said that Adjusting bonuses and other special pays to help tailor the future Navy force and target specific skills and even specific individuals is critical, Moran said, adding that the to the Navy of the future. That Navy, he says is staring at a new retirement system that could radically change the face, and the shape of the force by retaining driving the Navy to retain more junior sailors — they lose nearly 60 percent of first-term sailors — but recruiting fewer up front.
The smaller pensions and earlier retirement contributions could reduce the incentive for some to stay to their 20-year mark.
He's confident that the Navy will be able to modify its bonus offerings, saying that only 20 percent of the changes will need lawmakers to enact new laws.
"We are going to have to do that with this new retirement program," he said.  It starts…two years from this January. 
Advancement outlook
Moran has sought to Since Moran took over, he's sought to evened out enlisted opportunities so that most the widest average of sailors can count on steady advancement up the ranks. 
This past fall's advancement cycle saw an average of 23.3 percent of eligible sailors move up across of sailors across all three petty officer pay grades advancing. It's ticked lower over the past few cycles due to high retention. dropped steadily over the past three cycles, Moran said, mostly due to continued high retention in the ranks. Overall during his tenure, But within a percentage point or two, over Moran's time in the job, it's hovered between around 24 percent, a level he calls is healthy advancement and in line with historic Navy averages. 
And You can expect that steady advancement to continue into the foreseeable future, he said.
"Retention is a factor in our advancement planning as we advance to vacancies," he said. "I think we will remain close to the 10-year-average for the foreseeable future."
Moran's next move is to expand the new spot advancement system of moving sailors up the petty officer ranks. The But what's got Moran excited is the new Meritorious Advancement Program saw commands use nearly every available quota. Moran has called for commanding officers to use these spots to promote the best, not to save mediocre sailors from high-year tenure limits. 
"I was impressed with how command leadership implemented the first full season of MAP and complied with the intent of the program," Moran said. "This year, we promoted 2,282 sailors and used 99.6 percent of available quotas. Only eight quotas went unused."
MAP advancements from the 3-month window in the summer were then factored into setting overall advancement quotas.
The program's success, Moran said has opened the door. Moran said he plans slightly to expand the program to shore commands in starting in 2016, adding that those details are being worked out and will be released in early 2016.  and said that details on who'll get them first will be released sometime in early calendar year 2016.
"The real value here … is that we [now] have excellent accounting of where and how we advanced these sailors — a dramatic improvement from years under the [Command Advancement Program] where we were far less effective at accounting," he said. "Going forward, we will be able to do a better job at managing advancements by rate and paygrade."
Mark D. Faram is a former reporter for Navy Times. He was a senior writer covering personnel, cultural and historical issues. A nine-year active duty Navy veteran, Faram served from 1978 to 1987 as a Navy Diver and photographer.
Share: