Every Navy and Marine Corps job, from submariner to infantry grunt, soon will be open to women. Alcohol abuse is dipping in the ranks after a war-on-booze push that included random Breathalyzer tests. The future fleet is poised to operate more on alternative fuels and be less dependent for its fuel ​on Middle Eastern oil.  

Navy Secretary Ray Mabus has transformed the services he leads changes ​during what has become the longest tenure of a Navy secretary in a century95 years​. In the process, ​The former Navy​ lieutenant j.g. has emerged as a progressive force leading the two hidebound services, driving through big changes in the face of fierce objections from of ​generals and admirals. He has pushed forward his vision on everything from fleet size and gender policy, to the nitty-gritty details on officer promotions and sailor and Marine uniforms.


Mabus' Navy is building new ships outfitted with game-changing technologies even as concerns remain about fleet size and optempo. His Marine Corps is resetting after two land wars as an amphibious and crisis response force that is 20,000 troops smaller.
Serving as the civilian head of a military service is really what you make it.
​
Mabus, who has led the Navy Department since May 2009, has been unafraid of making moves that stoke
stoked
​controversy. Marines were embarrassed that the service briefly considered a gender neutral cover, dubbed a "girly hat," which resembled one worn by women. Some veterans were in an uproar over his 2011 decision to name a cargo ship after the late Navy vet and farm labor activist Cesar Chavez.
And there's the feud over allowing women to join Marine ground combat specialties, a move that has escalated into a firestorm between Mabus and many former Marine leaders who say that agenda
his move
​will weaken the Marines' legendary combat effectiveness.
Mabus has criticized the Marine Corps' long gender-integration study as flawed and stuck to his guns.
"One thing I'll say about the Marines: Sometimes Marines are more hesitant than anybody else to make some of these changes," Mabus said in a recent interview with Navy Times. "Once the decision is made, though, Marines move out faster than anybody I've ever seen."
Mabus, 67, a Harvard-trained lawyer and former Mississippi governor, campaigned for then-presidential candidate Barack Obama in his home state and was viewed as a defense industry outsider when he was appointed in 2009. He has become the longest tenured Navy secretary since the end of World War I, when
Today, Mabus is the longest-tenured Navy secretary since World War I, when
​fellow southern Democrat Josephus Daniels held the office throughout Woodrow Wilson's presidency.
Daniels' couch sits in Mabus' office, and for those who
come in for a
​visit, he'll tell the story about the
about Daniels and the
​origin of the term "cup of joe," coined when Daniels banned drinking alcohol throughout the fleet
on ships
​in 1914. To soothe their beverage fixations, the sailors turned to coffee, which they named "Joe," after Daniels.
The comparison is apt. Like Daniels, Mabus has continued the campaign against alcohol abuse,
booze, barred
​ banned smoking aboard
from
​submarines and tried to curtail cigarette and alcohol sales in the services.
"In many ways, he's always going to be a controversial secretary because he has been inclined toward a progressive agenda," said retired Capt. Jerry Hendrix, a former naval flight officer who's now a defense expert
senior fellow
​at the Center for a New American Security.
said.
​ "And by that, I mean progressing, not necessarily hyper-liberal."
Mabus has accomplished some initiatives through his authority and others by sheer force of personality.In his job he has total power on some issues and no power on others
,
due to the Goldwater-Nichols Act of 1986, which shifted the advisory role to the defense secretary and others. That left the
Navy secretary, like other
​service secretaries with varying powers. Mabus' initiatives can be struck down by the defense secretary or undone via the joint chiefs of staff — an advisory board that SECNAV doesn't control.
"The service secretaries, in many ways, are something from a bygone era — particularly after Goldwater-Nichols, where power went to the secretary of defense and the joint commands and the chairman," said retired Navy Capt. Lawrence Korb, an assistant defense secretary for manpower, reserve affairs, installations and logistics under President Ronald Reagan.
a defense expert with the Center for American Progress. told Navy Times.
​"It's very hard to have a big impact."
In that way, many of Mabus' initiatives can be struck down by the office of the secretary of defense, or his chief of naval operations can undo his efforts under the cover of a joint chief of staff, a role Mabus doesn't control.
Going green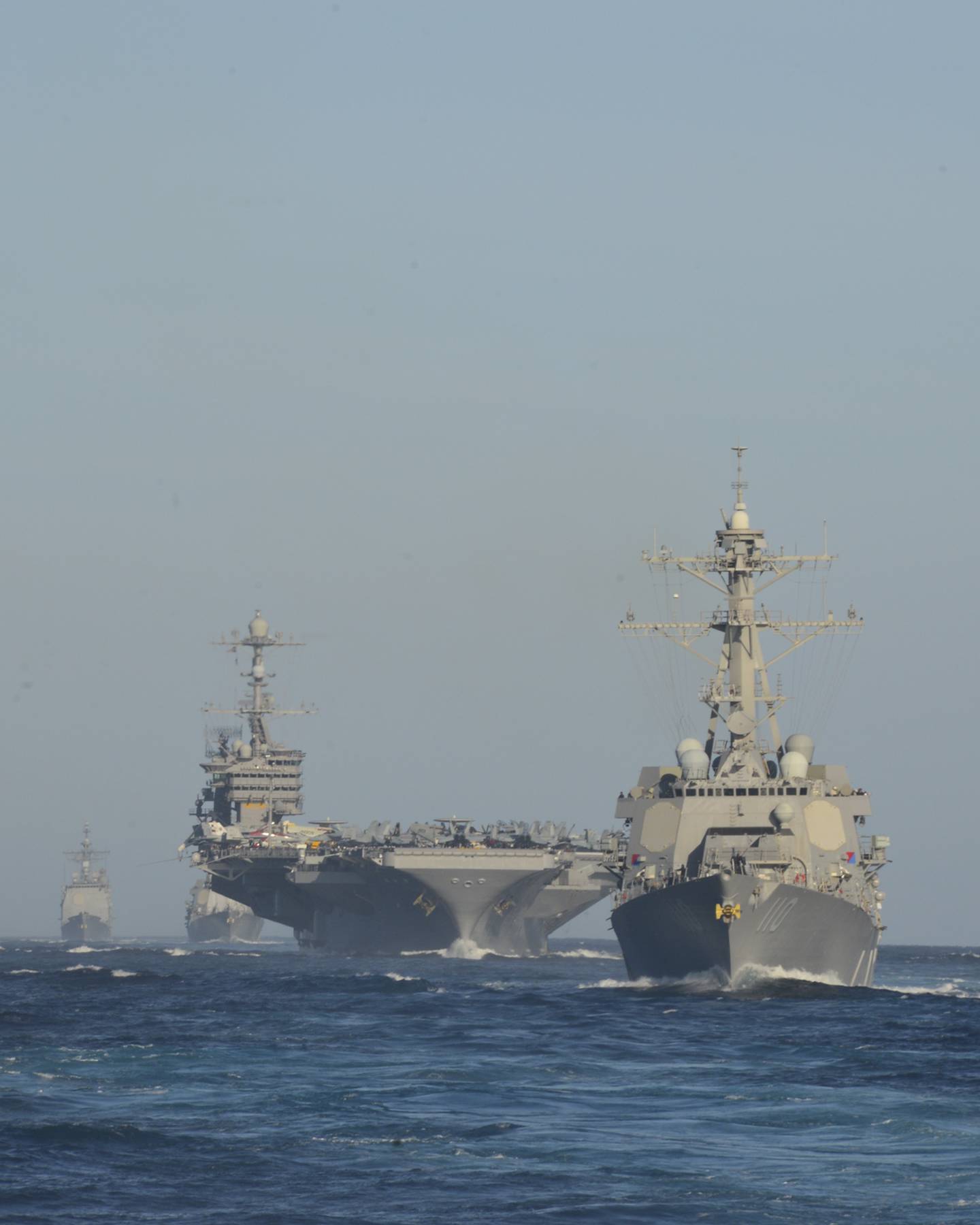 Mabus' vision of a Great Green Fleet is set to be realized in a 2016 deployment.
Photo Credit: MC3 Susan C. Damman/Navy
When President Obama took office in 2009, he set an agenda to make advancements on renewable energy
,
and his Navy Secretary Ray Mabus
. As his Navy secretary, Mabus
​charged ahead.
"He is really, deeply interested in that. And I think that came out of his service as an ambassador" to Saudi Arabia, retired Capt. Jerry Hendrix, a former naval flight officer who's now a defense expert
senior fellow
​at the Center for a New American Security, said. "I think he came away from that experience feeling we should not be beholden to people whose foreign policy we may not entirely agree with. He wanted to create strategic independence through alternative energy sources."
Right out of the gate, Mabus laid
down
​an ambitious plan
line-up of goals
​to reduce the Navy's use of fossil fuels and make them less dependent on Middle Eastern oil
in the fall of 2009
​. Alternative energies have been many times more expensive than regular petroleum, but Mabus has argued that the Navy and other adopters will drastically reduce the price of these fuels, which burn cleaner and produce less carbon dioxide emissions.
First up was to put together a so-called Green Strike Group, a term that later morphed into the Great Green Fleet, of nuclear- and biofuel-powered ships and aircraft by 2012, and to deploy it in 2016.
The strike group tested out "drop-in replacement" biofuel blends and other energy efficient technologies, and according to the Navy, the carrier, two destroyers and cruisers in the strike group performed at full capacity. As part of this, the carrier Nimitz participated in the 2012 Rim of the Pacific exercise with gas that cost roughly $27 a gallon, eight times that current cost of petroleum, according to Reuters.
Lawmakers, citing the pricey mixture of gas, cooking oil and algae, moved to block the Navy's spending on these efforts, effectively strangling the initiative.
In the intervening years, much was written about the cost of the program and its apparent failure, though the carrier Nimitz did make an appearance at 2012's Rim of the Pacific Exercise. The milestone was met, but critics weren't sold.
​A summer 2012 story in Wired magazine, " How the Navy's Incompetence sank the 'Green Fleet,' " called out Mabus' department for setting goals before doing analysis, failing to get the Pentagon on board and not bothering to meet with lawmakers to discuss it. Rep. Randy Forbes, R-Va.
Virginia
​, one of the foremost critics, told Mabus in 2012, "You're not the secretary of energy."
"We're not talking, in my view, about obscene amounts of money," said retired Navy Cmdr. Bryan McGrath, a conservative defense expert who has been a vocal critic of the plan. "If he had done those things in the first term, if he had just called people quietly in the office, I would have been quiet about it. The problem I had in the first term was that's all he talked about."
Mabus hasn't backtracked, however. He has continued to make inroads in cutting the energy use of the Navy Department, one of the nation's biggest energy consumers. Commanding officers are encouraged to trim energy use and sailors and Marines now routinely rove barracks and offices, turning out lights. Energy-saving LED lights are becoming standard across the fleet and Marines have tested more gear designed to be self-sustainable for longer in the field.
And the service is gearing up for a true deployment of a Great Green Fleet powered by
that deploys on
​a mix of bio-fuels priced around $2 per gallon, SECNAV spokesman Capt. Patrick McNally told Navy Times; officials say this will be the Stennis Carrier Strike Group, which sets sail from San Diego in late January.
Despite the rumblings, the Stennis carrier strike group is scheduled to set sail from San Diego in late January.
​
"The biggest goal, obviously, was by no later than 2020, at least 50 percent of all naval energy…
…, the flow down the shore,
​will come from non-fossil-fuel sources," Mabus said.
And ashore, Mabus added, the department is ahead of schedule getting installations onto renewable fuels.
"We're going to be five years early on our bases," he said. "The president, in his 2012 state of the union, said the Navy will buy a gigawatt of renewable energy for its bases. That's half. We use about two gigawatts. We're going to hit the one gigawatt, with projections, by the end of this year."
A gigawatt is enough to power five Nimitz-class aircraft carriers or seven Boeing 747 jetliners, according to the Navy.
Coming Monday: How Mabus has turned a corner in the Navy's war on booze.
Meghann Myers is the Pentagon bureau chief at Military Times. She covers operations, policy, personnel, leadership and other issues affecting service members. Follow on Twitter @Meghann_MT
Share: