More than any other military branch, the Coast Guard has a reputation for having to do more with less — 11 statutory missions from search and rescue to fishing inspection, with a fleet of more than 40-year-old ships, about 40,000 active-duty personnel and just above $10 billion. That's about 6 percent of the Navy Department's 2017 budget request.
But the Coast Guard is doing a victory lap this year.
Commandant Adm. Paul Zukunft is celebrating this as the service's largest acquisition budget in history, as the service moves to build more ice breakers and the offshore patrol cutter. announced Tuesday at his annual State of the Coast Guard address in Washington, D.C.
"In the past, you have heard the Coast Guard compared to a dull knife," Zukunft said in Tuesday in his annual State of the Coast Guard address, adding that said, but a $1.5 billion in 2016 acquisition funds and the promise of a new heavy icebreaker in the president's 2017 budget will sharpen the edge.
Things are looking up this year, though, as the service is working with its largest acquisition budget in history,
A new maternity leave policy, more career sea pay and a plussed-up force are also on the table this year and next, he said.
"Yes, the state of the Coast Guard remains Semper Paratus — always ready to guard the homeland, protect our environment, facilitate maritime commerce, save those in peril on the sea and attack transnational criminal organizations that attempt to exploit the maritime domain," Zukunft said.
Those budget boosts will allow the Coast Guard to continue carrying out the commandant's strategies for covering the Arctic, Western Hemisphere, cyber and energy security.
Last year, Zukunft said, the service seized more than 190 metric tons of cocaine and detained more than 700 smugglers.
"I was aboard Coast Guard cutter Stratton this past August when they offloaded 32 metric tons of cocaine in San Diego," he recalled. "Not to be outdone, her sister ship Coast Guard cutter Bertholf, which is deployed again as I speak, interdicted 22 metric tons of cocaine to include an eight metric-ton seizure — the largest ever from a self-propelled, semi-submersible."
In the Arctic, the cutter Healy led a North Pole mission for scientific research last summer, the first of its kind for a U.S. surface ship. Meanwhile, the cutter Waesche monitored offshore drilling in the Arctic's Chukchi Sea, and Polar Star completed its third consecutive winter in Antarctica for Operation Deep Freeze.
"I am grateful for the president's ardent support and his call for heavy icebreakers to ensure the United States maintains year-round access to the strategic polar regions," Zukunft said.
The crew of the Seattle-based Coast Guard Cutter Healy arrives on Nov. 11, 2011, in Seward, Alaska for a seven-day patrol break from their Arctic mission.
Photo Credit: Petty Officer 1st Class David Mosley/U.S. Coast Guard
Addressing Coast Guardsmen directly, the commandant listed a series of initiatives aimed at improving morale.
"At the service level, you are already seeing assignment policy changes to improve geographic stability, expanded maternity leave, rebalanced sea pay and a continued emphasis on our sexual assault prevention and response campaign," he said.
In January, the service announced it would double maternity leave from six to 12 weeks.
And next year, a new sea duty pay chart takes effect. These payout rates are divided by type of command, paygrade and time. For example, Divided by type of command, an E-5 with 6 six years at sea on high endurance cutters will receive $525 in sea pay.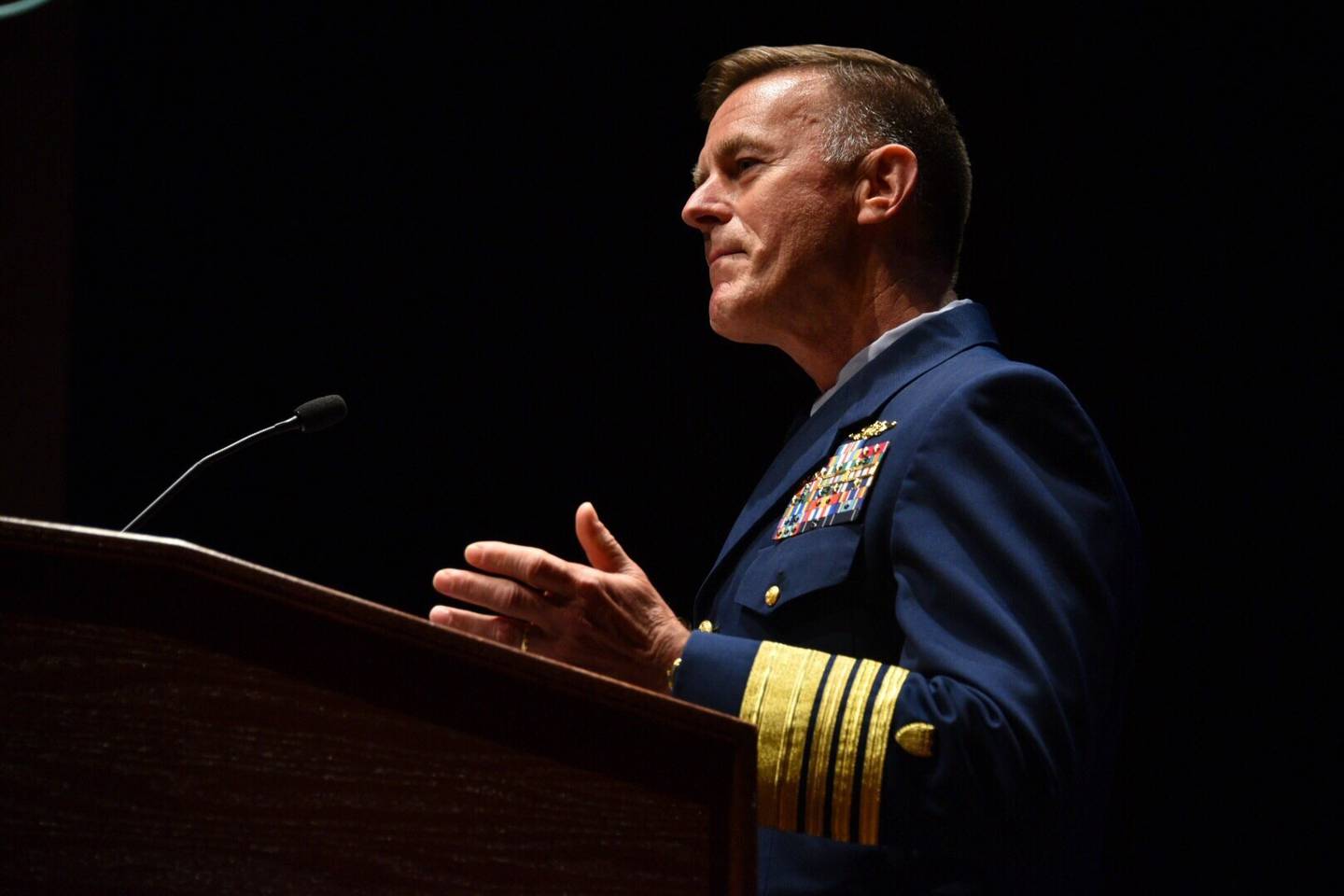 Coast Guard Commandant Adm. Paul Zukunft delivers the 2016 State of the Coast Guard Address at the Capitol Visitor Center in Washington, Feb. 23, 2016. During the address Zukunft discussed the Coast Guard's continued focus on strategic challenges, building a 21st century Coast Guard and investing in Duty to People.
Photo Credit: Patrick Kelley/Coast Guard
"And at the individual level, we're going to overhaul tuition assistance, institutionalize a continuum of leadership development among our enlisted, officer and civilian workforce and provide occupational credentialing for our servicemembers that translate to educational and qualification equivalences in the private sector," Zukunft said.
He also hinted that the service, notoriously small and with an unrivaled 90-plus percent retention rate, is looking to beef up. The service's 2015 authorization act requires manpower leadership to formally establish a needed force size, and Zukunft suggested the "Jaws" strategy.
"Looking at the challenges we're facing in the world today: ladies and gentlemen, you're going to need a bigger Coast Guard," he said.
Meghann Myers is the Pentagon bureau chief at Military Times. She covers operations, policy, personnel, leadership and other issues affecting service members. Follow on Twitter @Meghann_MT
Share: