NORTH KINGSTOWN, R.I. — The keel has been laid for the future USS South Dakota, the nation's 17th Virginia-class attack submarine.
The milestone was marked in a ceremony Monday at the Rhode Island manufacturing plant for General Dynamics' Electric Boat. The submarine's sponsor is Deanie Dempsey, wife of former Joint Chiefs of Staff chairman and retired Army Gen. Martin Dempsey. She is an advocate for military families and volunteers with military support organizations.
"I am beyond honored and thrilled to be here and to start this relationship with all of you," she said.
In a Navy tradition, Dempsey wrote her initials on a metal plate, which were made permanent by a welder and will later be mounted on the submarine. The nuclear submarine doesn't have a traditional keel running the length of the ship and is being built in modules.
It is said that the sponsor's spirit and presence guides the ship throughout its life. Dempsey said she takes the responsibility seriously.
Martin Dempsey, who was in the audience, said he loved the tradition of the ceremony and the "heartfelt passion" for building submarines that it showcased.
"The merging of men and machines is really remarkable," he said.
Groton, Connecticut-based Electric Boat and Newport News Shipbuilding in Virginia build two Virginia-class attack submarines annually under a teaming agreement.
The South Dakota features improvements designed to increase stealth, including quieter machinery, said Rear Adm. Michael Jabaley, the Navy's program executive officer for submarines.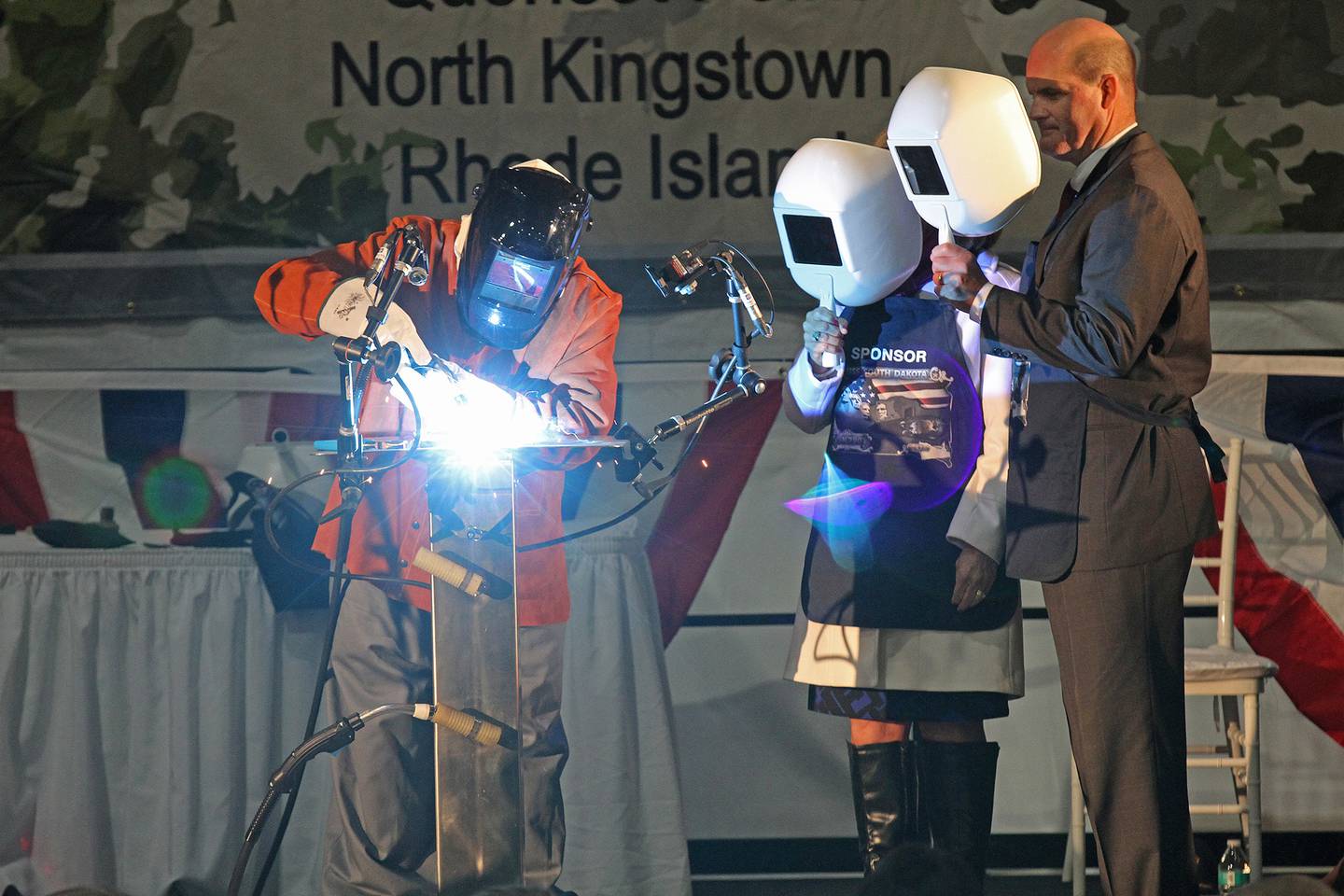 Domenico Castaldi, a welder at Electric Boat Quonset, welds the initials of Deanie Dempsey, the sponsor of the submarine South Dakota and wife of now-retired Army Gen. Martin Dempsey
Photo Credit: Steve Szydlowski/The Providence Journal via AP
Construction began in March 2013, and the submarine is now 65 percent complete. Its contracted delivery date is August 2018.
"With the undersea environment constantly changing and becoming more crowded with capable threats, the Navy has decided to use South Dakota as a prototype ship that will include significant investments in stealth beyond anything seen to date," Jabaley said.
The submarine is expected to cost about $2.5 billion, according to the Navy. The stern section served as the backdrop for the ceremony.
Members of Congress from Rhode Island, Connecticut and South Dakota spoke at the ceremony about the nation's need for submarines. They, along with Rhode Island Gov. Gina Raimondo, a Democrat, thanked the shipbuilders and service members in attendance.
U.S. Sen. Mike Rounds, R-S.D., said "a new symbolic link" is now formed between South Dakota and the Navy.
Share: