NAVAL AIR STATION OCEANA, Va. — Ten F/A-18E Super Hornets with belonging to the "Knighthawks" of Strike Fighter Squadron 136 said good-bye to their long-time base here Tuesday Naval Air Station Oceana this morning final time July 12 as they headed cross-country to their new California home at at Naval Air Station Lemoore, Cal.
The squadron was originally part of an eventual move of two Hornet squadrons from Oceana to Naval Air Station Lemoore as part of the Navy's pivot of forces to the Pacific.
But when, or if, another squadron will move is still up in the air at this point.
"No final plans have been made yet to move another squadron from Oceana to Lemoore beyond the home-base shift of VFA-136," said Cmdr. Jeannie Groeneveld, spokeswoman for Naval Air Forces. "As we strive to complete our shift to the Pacific, future moves are still being determined and no plans are final at this point."Another, as yet-to-be-named squadron, will relocate to Lemoore sometime in fiscal 2018, sources tell Navy Times. But it will be at least a year before that squadron is identified and a move is set in motion. 
With the arrival of VFA-136, Lemoore will be now home to a total of 17 Hornet squadrons. 
"We've been working this for the past six months and we're ready to get to Lemoore and get back to work," said Cmdr. Bob Lanne, 136's skipper, who spoke to media shortly before departure. "We're looking forward to West Coast flying — it's a little different from out here in that you have the ability to use some incredible  training ranges — including the outstanding capabilities of Naval Air Station, Fallon, Nevada. wWe're excited."
Oceana's squadron tally now drops to drops to 16 VFA squadrons. With the pending loss of another VFA unit to Lemoore, and the decommissioning of VFA-15, the Virginia Beach jet base's strike fighter squadron total will eventually drop to at 14 over the next couple years.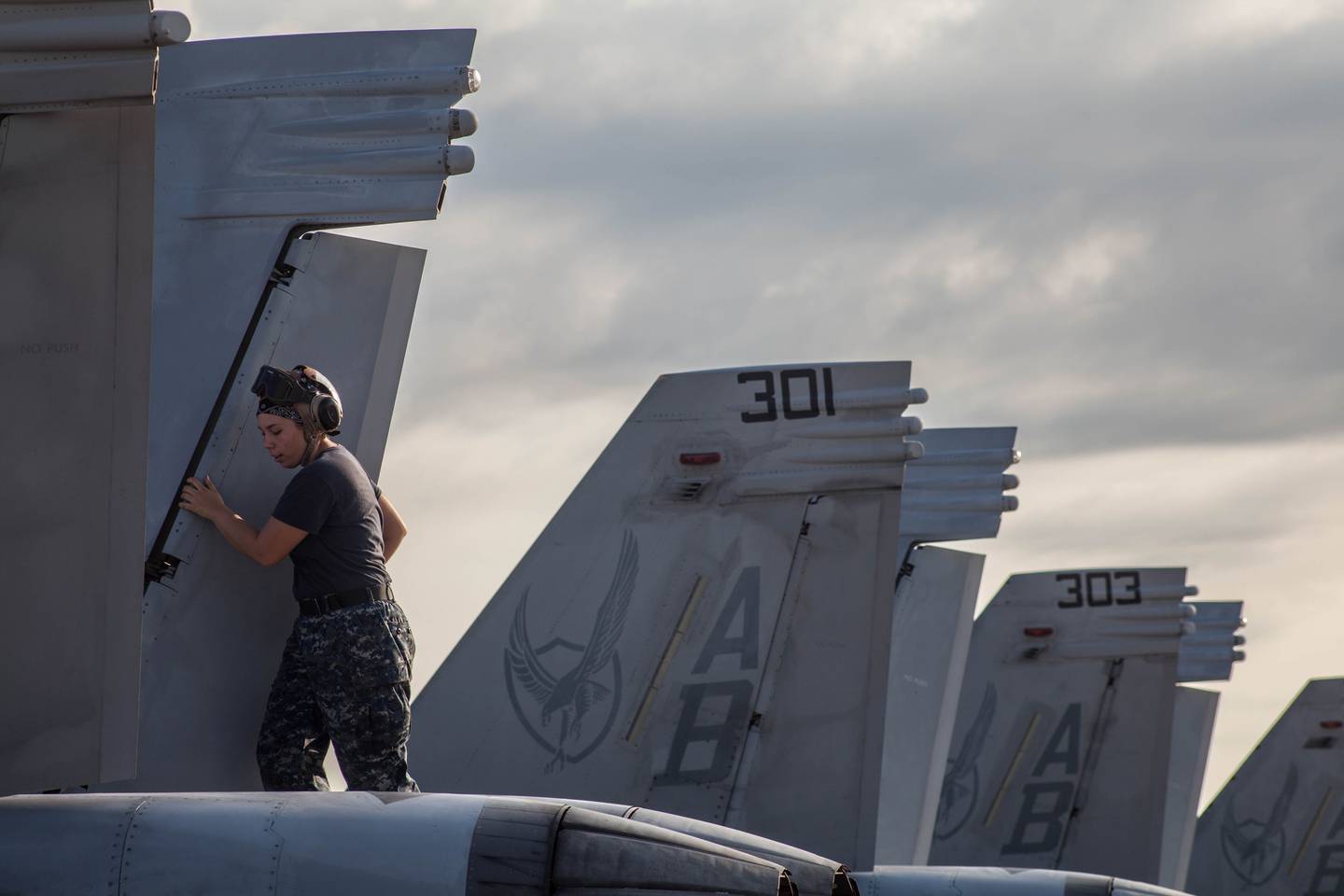 Aviation Electrician's Mate Airman Megan Jones does a preflight check of a vertical stabilizer for an F/A 18E Hornet from Strike Fighter Squadron 136 on July 7, 2016, shortly before the aircraft was slated to take off for a cross country flight to NAS Lemoore as part of the squadron's relocation.
Photo Credit: Mark D. Faram/Staff
The move, Lanne said, was planned to take place over the summer, so squad members all can be settled into their new homes by the start of the school year this fall, Lanne said. 
The squadron, he said, will begin flying again at Lemoore two days after arriving, he said. The remaining squadron members will do the final closeout at Oceana and are expected to arrive at Lemoore in August.
The pending move is being looked at as yet another adventure in the Navy by Aviation Electrician's Mate Airman Megan Jones, who was cleaning the canopy of aircraft 302 in preparation for it's departure, said she looks at the move as another adventure in the Navy. 
"I've never been west of Iowa ever in my life," she said. "So I'm looking forward to it as I'll now get a chance to explore California."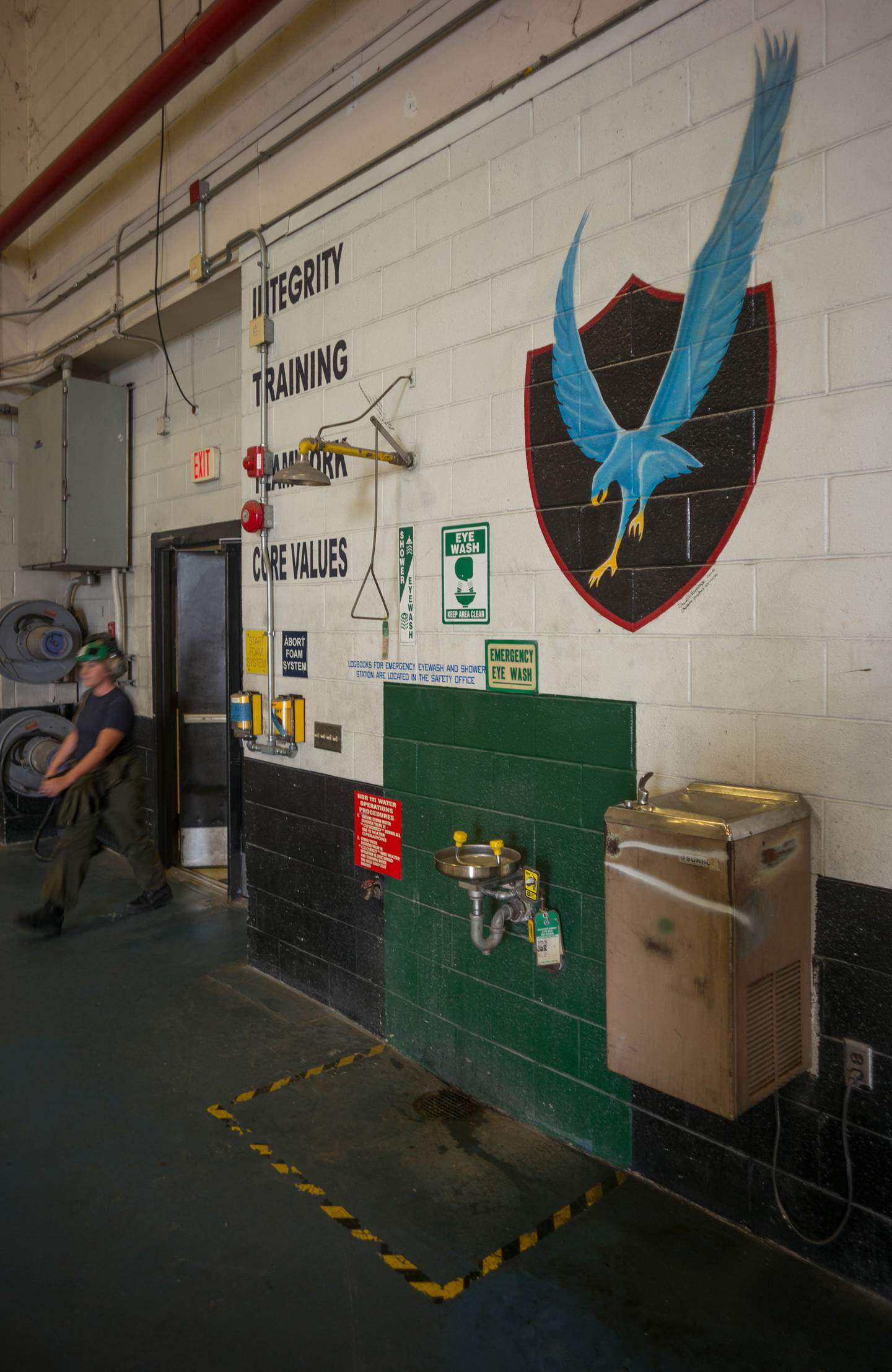 Aviation Machinist's Mate 3rd Class Kirsten Kaiserdzialo heads out to the Strike Fighter Squadron 136 flightline on July 7, 2016, to help prepare aircraft for takeoff from the squadron's Oceana hanger for the last time.
Photo Credit: Mark D. Faram/Staff
Remotely located in the central California's San Joaquin Valley, Lemoore has had an image problem over the years, a fact that isn't lost on Lanne — a veteran of multiple tours at the base — and who said he is happy himself with returning there.
"The base gets a bad rap, mostly from people who have never been there," he said. "But it's a great place to be stationed, especially if you are raising a family. There's so much to do within a couple hours driving."
Still, it's a tough base for many young sailors, unless they've got the mobility of their own car, due to the distance from the base to the nearest town.
"It's been a focus of ours over the last six month to prepare our sailors for what to expect," he said. Airman Jones is heading west prepared with her own wheels and as a result said she doesn't believe the remote location will be that tough. 
The squadron will remain assigned to Carrier Air Wing 1, which will remain based at NAS Oceana.  
The move is actually a return home for the Lemoore is not new to theKnighthawks, as the squadron was established there in 1985. 
They were first relocated to then then Naval Air Station Cecil Field, Florida, outside Jacksonville just a few years later. As that base closed in the late 1990's, the squadron was relocated to Oceana in 1998. 
Mark D. Faram is a former reporter for Navy Times. He was a senior writer covering personnel, cultural and historical issues. A nine-year active duty Navy veteran, Faram served from 1978 to 1987 as a Navy Diver and photographer.
Share: