Thousands of sailors will see a change in the time they spend at sea over their career  — and the impact, for many, will be felt immediately. 

The changes announced in August immediately affect 28 ratings, 13 of which will see a rise in sea time. The sea-shore tour overhaul, the first in four years, tips the enlisted force towards more time at sea over a sailors' career. 

Officials are concerned that their move ups the numbers of ratings considered "sea-intensive" from 14 in 2008 to 25 today. Sea-intensive ratings are those where a sailor would spend 18 years or more assigned to sea duty over a 30-year career. In simplest terms, these ratings have many more sea billets than shore spots. 

"That's a little bit of an alarming trend and what that's saying is that the shore duty billet base for those ratings is insufficient to support the number of sea duty billets," said Craig Schauppner, who has managed sea/shore flow for the chief of naval personnel since it was created in 2008. "So we know that those ratings are going to have manning challenges so an increase in the number of those ratings is a concern."

The service is also weighing some larger changes proposed by CNA's Center for Naval Analyses, a research agency that assesses personnel management for the Navy. Among the proposals to fill more billets across the force:


Allow more voluntary tour extensions, especially at sea.
Offer back-to-back sea duty tours for volunteers in some ratings.
Extend sailors involuntarily at sea to fill gaps.
In this revamp, the highest priority is easing the burdens on the sea-intensive ratings.
With this update, 13 ratings will see more sea time and 15 will see a drop. Forty-two ratings will see no change to tour lengths.
If you are in one of the ratings moving up or down in sea or shore duty, there's a chance your current tour will be impacted — up or down.
"We have a grandfather clause in the message," Schauppner said. "This means if your rotation date is within 12 months of this NAVADMIN, your tour length will most likely not get adjusted — I say might because the detailers might make some exceptions here and there in special cases."
"If your [rotation date] is outside that 12 months, you will probably be adjusted."
The new sea duty rules are increasing the amount of sea time sailors in many ratings will see over a 30-year career as officials move to fill open billets.
Photo Credit: MC2 Huey D. Younger Jr/Navy
For many ratings, the changes will boost the time a sailor spends in the fleet over their career. The fleet remains in high demand from ISIS strikes in the Middle East and now Mediterranean to presence patrols in the simmering Asia-Pacific. Fleet bosses are working to limit deployments to seven months after years of crises.
Fifteen ratings are under extreme strain. These sea-intensive specialties, like damage controlman, quartermaster and aviation boatswain's mate (launch/recovery), are needed in the fleet well beyond the 216-month career cap. Officials are eyeing proposals to boost fleet manning in these fields.
The sea-shore flow system maps out flat-rate tour lengths. In theory this means that every sailor in a given rating will serve the same amount of time at sea over a 30-year career.
News of the changes prompted debate. Some point out that sea duty commands are operational and must be filled before shore commands. But others said that shore commands are important breaks for career sailors and that cuts to shore support will be quickly felt in the fleet.
"The seagoing side of things doesn't work without the shore side backup," commented Carl Ball on Navytimes.com. "Just what do you think FRC/AIMD and Fleet Training Commands like VFA-122 are there for? They feed the supplies, parts, and trained personnel TO the deployed forces for increased readiness."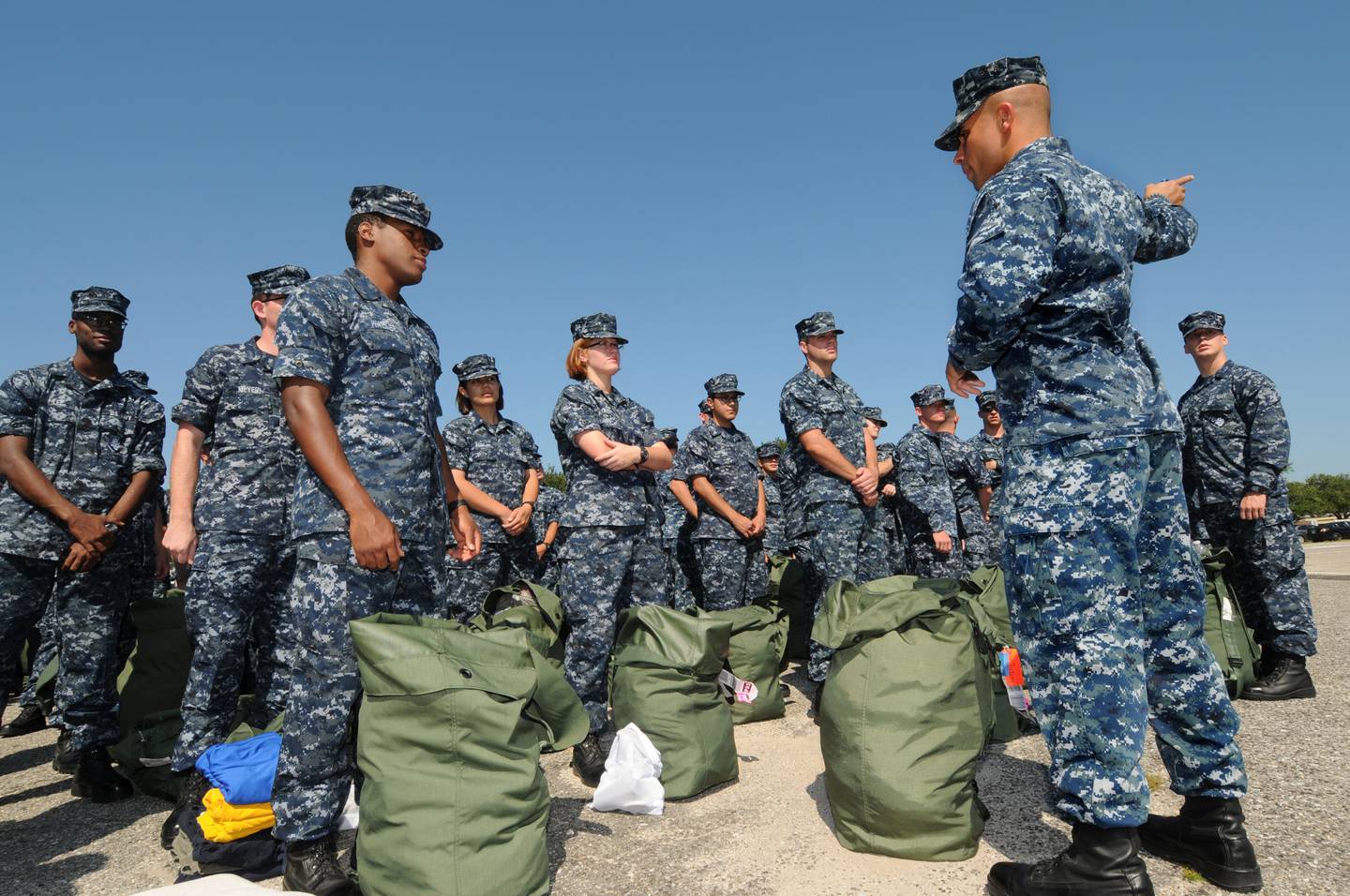 Personnel managers are weighing more drastic moves to fix fleet manning, like giving sailors the option to do back-to-back sea tours and the authority to involuntarily shorten a sailor's shore tour when their critical skills are needed at sea.
Photo Credit: Gary Nichols/Navy
Drastic proposals
The CNA study published in June recommends the Navy could improve the detailing process by giving the service more flexibility to fill billets and giving sailors more incentive to take tough jobs or go back to sea sooner.
The study, "Evaluation of the Navy's Sea/Shore Flow Policy," recommends the Navy factor things like advancement, high-year tenure and more into sea-shore planning. High-year tenure caps, separations and other personnel shifts have operational implications that must be managed short-term by the command.
Another factor is women. As the Navy works to increase the percentage of women in the ranks over the next decade, the study said that getting more of these women to sea can help ease tour lengths overall in many communities.
Some of the recommendations are more drastic. For instance, the report calls for the service to be able to extend sailors involuntarily at sea — even if it's beyond the five-year maximum currently allowed.
"Navy policy requires sailors to spend no more than five years at sea and no less than two years on shore per tour," the report said. "These ceilings and floors are implemented regardless of the sea/shore billet ratio for a given community."
In short, the Navy's limits based on sailor quality of life concerns impinges on their ability to reduce operational time for some sea-intensive ratings.
This can cause further problems in sea-intensive communities. Recent policy changes allow sailors to voluntarily return to sea duty after 24 months of a 36-month shore tour. And officials still have the ability to pull sailors back to sea after the same two-year break on shore. Another option would be to allow sailors to request back-to-back sea tours for those who'd like to stay in the fleet or in some cases, forward-deployed.
But for many sea-intensive ratings with two few in-rate shore duty billets, the Navy assigns a lot of these sailors to generic shore duty such as recruiting and recruit division commander. Sailors taking these jobs must complete 36-month tours with no flexibility in the rules for either voluntary or involuntary early termination and return to sea.
One solution may be very unpopular: setting tours in some sea-intensive ratings like interior communications technicians or gas turbine systems technicians beyond five years.
IC, for example is one of the most sea-intensive ratings with currently 216 months -- 18 years of sea time -- over a 30-year career. CNA recommends that increase by nearly three years to meet current fleet manning needs to 250 months.  Much of that sea time happens in the first 20 years -- 14 years over three sea tours -- punctuated by two, three-year shore tours.
On the other end of the spectrum. Aerographer's mates are considered shore-centric and spend just 12 years at sea over the same 30-year career.  Actually, those 12 years happen over the first 24-years as both their sea tours and shore tours are three years apiece, allowing for an equal split between sea and shore duty.
"For these communities, the [sea/shore flow model] indicates that the [proscribed sea tours] should be greater than the 60-month ceiling set in the Navy's policy," the report said. "There is no…exception for sea-intensive communities; they must adhere to the policy ceiling of 60 months. This mismatch results in a sea manning gap for these communities."
Fourteen ratings, by CNA's calculations could benefit from sea tours that are longer than the Navy's stated maximum time allowed.
The limits prevent personnel officials from getting volunteers from sea-intensive communities to return to sea early or have the ability to voluntarily to fill gaps. The changes recommended by CNA would allow some to serve longer at sea rather than across-the-board increases for everyone in an entire rating.
"The [current sea/shore flow] model does not have the capability of assigning sailors to back-to-back sea or shore tours," the report concluded. "Adding [this] flexibility in assignment will improve the fidelity [of the sea shore flow system]."
The proposals are likely to be controversial. Sailors seeing their shore duty cut short or their sea duty extended last-minute are certain to harm morale — which could exacerbate gaps by the loss of more senior sailors.
Even if they adopt these changes, the report warns that manpower is always subject to flux.
"As such, manning variation will exist at some level, no matter what policy is implemented or how perfectly it is optimized," the report said. "Nevertheless, this natural variation can be bounded and controlled through policy improvement in the long term."
Schauppner at CNP said officials are still reviewing the CNA study and that wasn't able to say whether any specific proposals would be adopted in coming months and years, as the Navy updates its pay and personnel systems as part of the Sailor 2025 initiative.
"We are considering numerous pay and policy changes as part of Sailor 2025 and the overarching personnel system transformation underway," Schauppner said. "I am very familiar with the CNA study and worked with the authors on it."
Sea incentives
Personnel officials realize they must employ involuntary tours and extensions sparingly and only when necessary. They also realize they need ways to coax sailors back to sea duty, like guaranteed follow-on assignments and extra pays. One offering is Sea Duty Incentive Pay.
"This particular policy might not entirely alleviate the conflict between Navy manning goals and equitable rotation patterns for all communities, the report said. "However, including alternative policies makes [Sea/Shore/Flow] more helpful in improving sea manning. [Sea/Shore Flow] can further include this alternative policy in capturing the impact of those selected through the use of sea duty incentive pay."
Currently, this pay is still considered a pilot program, but that could change soon. It's paid under the authority for Assignment Incentive Pay — which has been used for specific hard-to-fill billets ashore and at sea, particularly overseas. It's now a temporary program that must be re-approved annually.
Use of the the program has grown since 2014 when 686 sailors took the pay in exchange for heading back to sea or in some cases extending ashore, for a cost of about $9 million. In fiscal year 2016, there are 763 takers to the tune of roughly $12 million. For fiscal 2017, already $7 million of an initial $10 million budget has been allocated, with nearly 400 sailors already signed up; officials project an increase over the year as more sign up.
Navy officials foresee the future of sea duty enticements as not being limited to money, but extending to coveted schools, assignments and more to tailor incentive packages to individuals.  

It appears that SDIP is here to stay.
"Navy believes that SDIP has proven to be useful in improving manning in sea duty billets," said Lt. Jessica Anderson, spokeswoman for the chief of naval personnel.  "When the Navy shifts to the new Assignment Pay authority, Navy will consider seeking a multi-year approval."
Mark D. Faram is a former reporter for Navy Times. He was a senior writer covering personnel, cultural and historical issues. A nine-year active duty Navy veteran, Faram served from 1978 to 1987 as a Navy Diver and photographer.
Share: