U.S. Southern Command is sending troops to Haiti to provide relief as Hurricane Matthew tears a path through the Caribbean towards the United States.

SOUTHCOM head Adm. Kurt Tidd announced late Wednesday afternoon that he dispatched Rear Adm. Cedric Pringle to Port au Prince, Haiti, to launch Joint Task Force Matthew, aimed at kick-starting aid to the country, which has been hampered throughout the day by flooded roads and fallen debris.

"We expect that he will be landing on the ground in Haiti late this afternoon," Tidd said, adding that the operation would set up shop at Port au Prince's airport.


SOUTHCOM began moving nine Army and Marine Corps medium and heavy lift helicopters to Grand Cayman, 600 miles west of Haiti, on Tuesday, Tidd said. Those helos should begin arriving Port au Prince Thursday by way of Jamaica, depending on the weather. The full team is about 100 Marines, soldiers and sailors, along with another 50 supporting staff
"We hope they will be on the ground tomorrow, initially to conduct surveys to figure out what are the hardest hit areas and then, because they have heavy and medium lift helicopters, help move humanitarian assistance supplies to the outlying areas — especially the areas that are cut off."
Initial reports out of Haiti are concerning, Tidd said.
"As anticipated, Hurricane Matthew has caused very heavy wind damage and flooding in Haiti's southern departments," he said. "Strong winds have downed trees and power lines and destroyed agricultural fields."
Tidd said roads and infrastructure along the southern coast have been heavily damaged and are impassible, based on overflights by the U.S. Coast Guard.
"We expect more detailed reports over the next few hours," he said.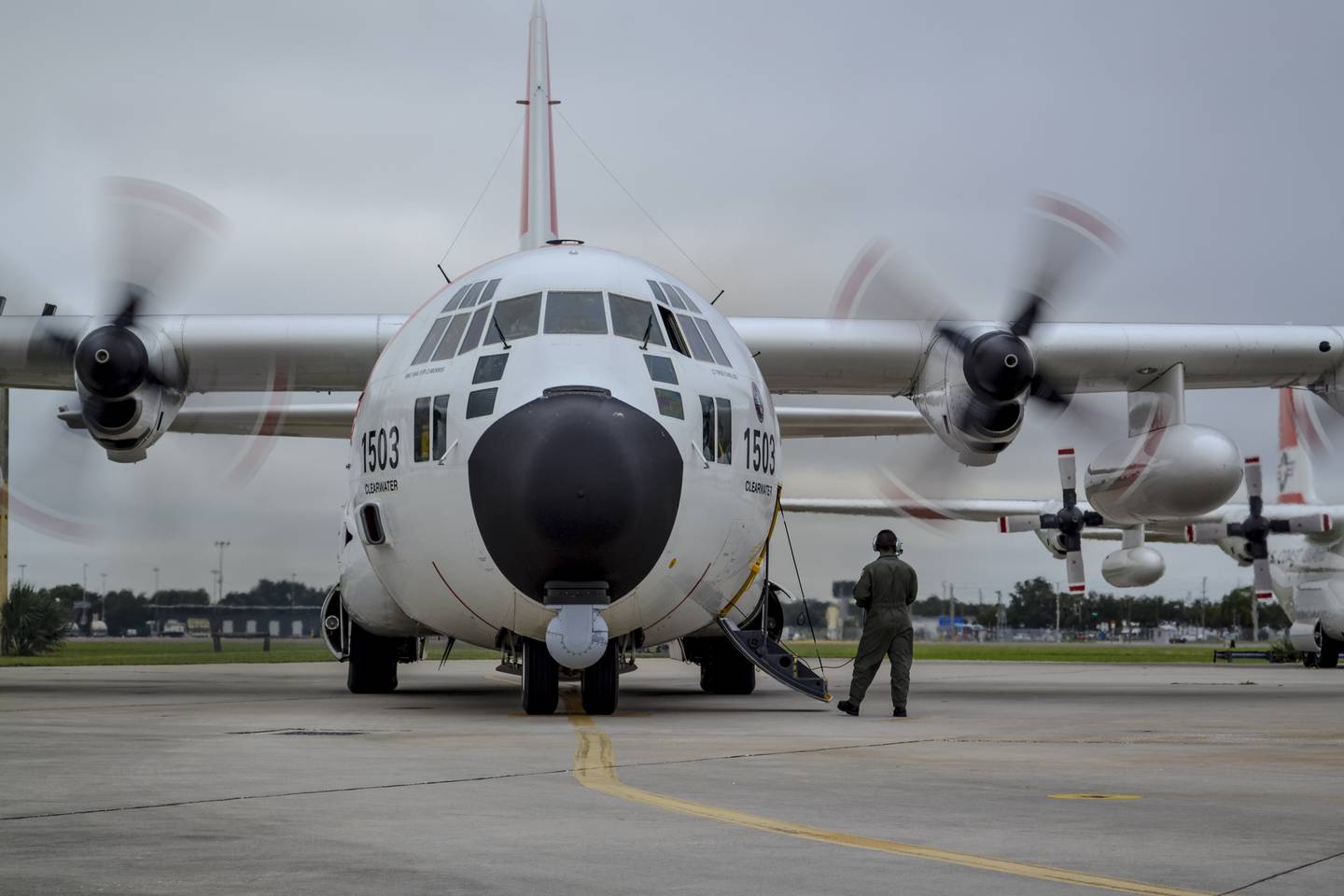 A Coast Guard HC-130 Hercules prepares for takeoff from Air Station Clearwater, Florida Wednesday to conduct for a post Hurricane Matthew overflight assessment of Haiti, Bahamas and surrounding areas.
Photo Credit: Petty Officer 1st Class Michael De Nyse/Coast Guard
The Navy deployed three ships, including the carrier George Washington and the hospital ship Comfort on Tuesday but they have not been tasked yet, Tidd said. Once the surveys have been conducted, it will be easier to know what support will be needed, he added, saying he expected that forces would be needed in a lot of places as Matthew churns north.
The Navy installation at Guantanamo Bay was spared any heavy damage and operations are back to normal there, Tidd said.
Back in the states, the military was bracing for impact from Hurricane Matthew, which is expected late Thursday.
The Navy sortied three ships from Mayport, Florida — the cruiser Anzio, the littoral combat ship Montgomery and the amphibious assault ship Iwo Jima.
"The current track of the storm indicates sustained winds of 40-45 knots in the Mayport basin later this week," said Rear Adm. Sean Buck, head of SOUTHCOM naval forces. "The decision to sortie was made early to allow sufficient time for the ships to prepare adequately and sail to safe waters."
Several other ships will shelter in place in Mayport, according to a Navy release.
It has evacuated some aircraft, including C-130s and HH-60 Pave Hawks from Patrick Air Force Base in Florida, said Air Force spokeswoman Erika Yepson. Other installations were revving up to provide relief efforts as needed, she said.
"Joint Base Charleston, South Carolina, is being prepared as a support staging area for relief supplies, personnel and other resources," Yepson said. "The Air Force is also posturing to provide air traffic control support to the [Federal Aviation Administration] and ensure medical units are ready to support as needed."
Additionally, 44 F-22 Raptors and T-38 Talons are being moved from Joint Base Langley-Eustisin Hampton Roads, Virginia, to Rickenbacker Air National Guard Base in Ohio.
Navy officials said early on Wednesday that the mighty U.S. East Coast fleet in Norfolk, Virginia, is at a heightened state of readiness in case it needs to scamper out to sea, but that no order has been given to sortie.
The storm made landfall in Haiti early Tuesday morning, slamming the country with 145-mile-per-hour winds and heavy rainfall. The full extent of the damage and what if any U.S. aid would be needed was still be assessed Wednesday morning.
So far about 10,000 people have been displaced by the story and are living in shelters in Haiti, and flooded roads and debris have hampered emergency aid efforts there,
Matthew is expected to track close to eastern seaboard and will likely be close to the coast of Florida by Thursday evening. The storm has been downgraded to a Category 3 storm with maximum winds reaching 115 mph, according to a Wednesday morning advisory.
David B. Larter was the naval warfare reporter for Defense News. Before that, he reported for Navy Times.
Share: