Nearly six months after the guided-missile cruiser Lake Champlain collided with a 70-foot fishing vessel east of the Korean peninsula, Navy officials are declining to disclose what caused the crash.
Officials say that Capt. Chris Cegielski, the ship's CO at the time, was administratively disciplined after the collision along with the executive officer and sailors who were on the watch team.
But Cegielski remained in charge of the ship until he handed over command last month during a standard change-of-command ceremony.
The Lake Champlain's May 9 mishap was one of four this year within 7th Fleet's Western Pacific waters.
The Navy fired the captains of the three other ships.
The two most catastrophic incidents resulted in 17 sailors drowning after the destroyers Fitzgerald and John S. McCain collided with commercial vessels this summer, disasters that have prompted demands for command accountability and a reassessment of basic operations capabilities in 7th Fleet.
Like the Fitz and McCain collisions, a primary question in the Lake Champlain incident is how a civilian vessel was able to close in on a state-of-the-art warship.
No one was injured when the San Diego-based ship collided with the South Korean vessel late that morning, according to the Navy. The ship was deployed as part of the Carl Vinson Strike Group.
An internal Navy investigation into the Lake Champlain incident was completed in June.
This week, the Navy denied Navy Times' Freedom of Information request for a copy of the investigation, a decision currently being appealed.
Pacific Fleet spokesperson Lt. Cmdr. Nicole Schwegman said it won't be released because "it is privileged information due to pending litigation."
She declined to comment further.
RELATED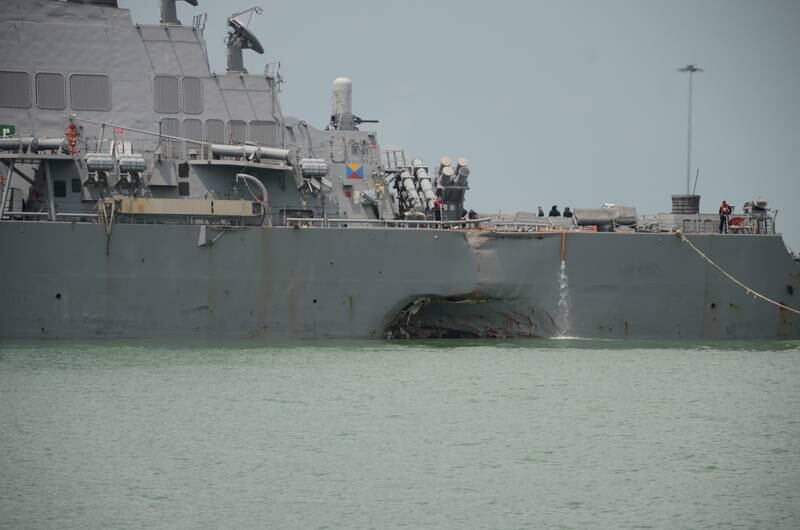 Seventh Fleet's at-sea mishaps began in January, when the cruiser Antietam ran aground in Tokyo Bay, spewing 1,100 gallons of oil into the water and prompting a multimillion dollar repair job.
The Antietam's commanding officer at the time of the incident was subsequently fired, as were the captains of the Fitz and McCain.
Basic seamanship failures have played a role in this year's mishaps, and the Antietam investigation cited problems with anchoring as contributing to the grounding.
Pacific Fleet commander Adm. Scott Swift said in a fleet-wide message after the August McCain disaster that such incidents were taking place during "the most basic of operations."
Geoff is a senior staff reporter for Military Times, focusing on the Navy. He covered Iraq and Afghanistan extensively and was most recently a reporter at the Chicago Tribune. He welcomes any and all kinds of tips at geoffz@militarytimes.com.
Share: