Rear Adm. Adrian Jansen is one of several flag officers found to have done wrong in the decade-long bacchanal of west Pacific fraud and bribery known as the "Fat Leonard" scandal.
He was found guilty last year of taking more than $5,000 in private dinners and wine from Malaysian magnate "Fat Leonard" Glenn Francis while serving as naval attaché in Indonesia from 2010 to 2013, according to the Navy.
Jansen also failed to report the interactions and was allowed to put in for retirement.
His LinkedIn profile notes he is "transitioning after 34 years of Navy Service."
In addition to touting his intel and national security pedigree, Jansen's LinkedIn bio notes that he has an "Active Top Secret SCI security clearance."
RELATED
More than a year after he was taken to admiral's mast for Uniform Code of Military Justice violations, Pentagon officials confirmed this week that Jansen still has a security clearance, a status that baffled experts in the field.
There is "no logical explanation" for why Jansen would still have a security clearance, said Sheldon Cohen, a security clearance lawyer.
"Under these circumstances, I think a person at that level, at those charges, to still have their clearance, is extraordinary," he said. "I know of no legitimate reason why he or any other person would retain a Top-Secret SCI clearance with those level of charges."
Jansen submitted a retirement request around the time of his February 2017 admiral's mast, where he received a punitive letter of reprimand and a $7,500 fine.
He is now administratively assigned to Naval Installations Command and declined comment through a command spokesman.
The Pentagon this week declined to confirm the level of Jansen's current clearance, but the "SCI" listed on his LinkedIn stands for "Sensitive Compartmented Information."
"Top Secret SCI is intelligence information at the highest level," Cohen said, adding that the situation was "most unusual."
Cohen said he saw no explanation for the retention, other than Jansen being "the beneficiary of favoritism."
"That discipline would normally lead to a loss of security clearance," he said.
Security clearance screening guidelines are not always followed, and the government creates problems for itself in the process, according to Martha Deutscher, a retired Pentagon official and author of "Screening the System," a book chronicling shortfalls in the screening process.
"If we're going to subject everyone to this clearance, we should do it in a routine manner and certainly not make exceptions for people at the higher echelon," Deutscher said. "They protect their own, I think, to a certain extent."
Pentagon officials said the services make recommendations regarding when a security clearance should be revoked, and referred questions about Jansen's continuing clearance back to the Navy.
Navy spokesman Cmdr. William Speaks declined to specify why Jansen has retained the clearance, but said Jansen's current gig does not involve him having access to classified information.
While the Navy publicized Jansen's admiral's mast last year, officials have largely refused to make public who has been punished for what in the Fat Leonard scandal.
"I can't really get into the specifics of what actions we've taken," Speaks said of Jansen.
He added that "all appropriate actions and notifications have been made in all administrative actions" taken in connection to Fat Leonard.
Pentagon spokeswoman Army Maj. Audricia Harris said officers who retire with a security clearance retain their eligibility to reacquire that access for two years after retiring, allowing them to avoid the background checks and other processes of first-time applicants.
Jansen is one of hundreds of personnel the service has investigated for unethical Fat Leonard interactions.
Francis pleaded guilty in 2015 to bribing scores of Navy officials in the west Pacific with booze, prostitutes and other kickbacks that brought lucrative port servicing contracts to his company, Glenn Defense Marine Asia.
RELATED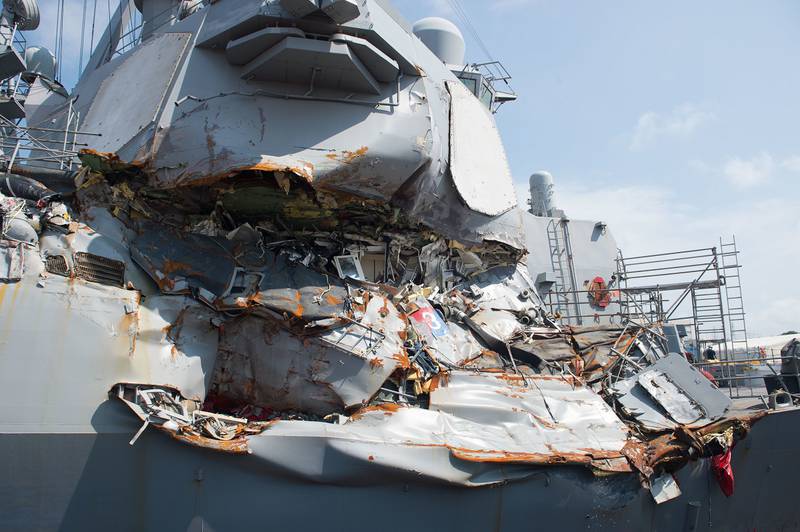 The Navy has so far opted to court-martial five officers, while the U.S. Justice Department has charged at least 20 other Navy personnel for the severest alleged crimes.
Such security clearances are not granted to those who break civilian criminal laws, Deutscher said, and the same should apply to those violating the military's code.
"They want to hold Navy personnel to a higher standard," she said. "If that is the case, they should do so."
Geoff is a senior staff reporter for Military Times, focusing on the Navy. He covered Iraq and Afghanistan extensively and was most recently a reporter at the Chicago Tribune. He welcomes any and all kinds of tips at geoffz@militarytimes.com.
Share: