Navy officials are taking meritorious advancements to the next level, announcing that no-test advancements will account for 15 percent of all petty officer advancements this year.
When the revamped program was started in 2015, no-test advancements comprised only about five percent of the total.
This year marks a significant milestone in the program, and officials have made no secret the long-term plan is to gradually increase the no-test advancement status to 25 percent of all enlisted advancements annually, though no timetable has been set to reach that goal.
RELATED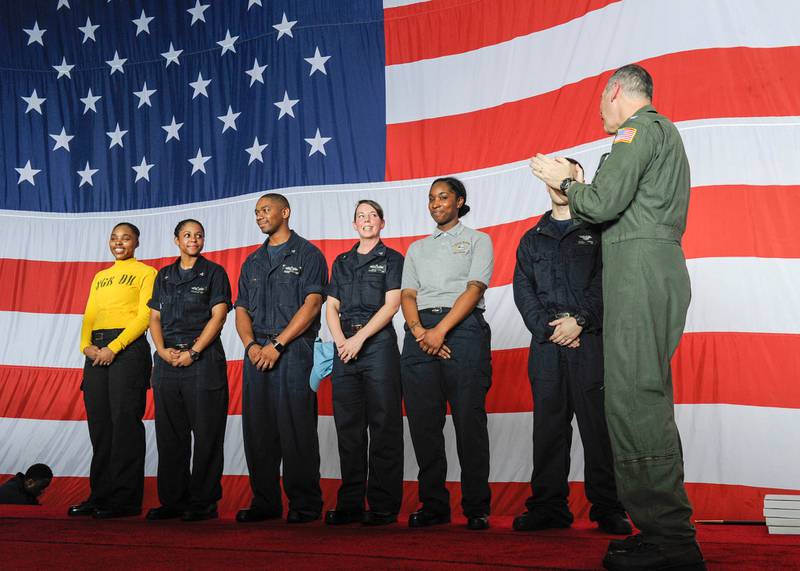 "We continue to refine and improve the program to further empower command triads to recognize their most highly talented sailors through immediate advancement," Vice Adm. Robert P. Burke wrote in a May 2 message outlining this year's program.
"The added flexibility and increased importance of MAP will account for approximately 15 percent of all E4-E6 advancements this year."
This year's totals will allow commanding officers to conduct up to 7,012 advancements, a significant increase of 2,795 quotas over last year's number.
Since officials revamped the program in 2015, quotas have increased by 4,774 in total, which amounts to a 213 percent increase over the initial 2,238 quotas offered in 2015.
RELATED
Unit commanders will have 6,809 quotas issued directly to commands. Higher headquarters units will be given 203 additional quotas to pass around to units under them who can justify the extra need.
This year also marks the second year the Navy's drilling reservists will have a shot at no-test advancements, as more units were added to the mix. There are 211 total quotas available across the force this year, 47 more than last year.
"MAP season," as it's come to be called, starts July 1 and runs through the end of August. Unused quotas will be accounted for and redistributed to commands who can justify the need in September.
Another change allows commands to submit multiple advancement requests throughout the MAP season instead of having to list all selections in a single letter to Navy Personnel Command.
A total of 2,977 quotas are available for advancements to E-4, but one of the rule changes allows commanders to use these quotas to also advance E-1s and E-2s to the next paygrade.
At E-5, there are 2,512 quotas, and an additional 1,523 available for E-6.
The selected reserve program concentrates the advancements at moving sailors into the E-5 and E-6 levels, as the reserve component no longer has E-3 billets. There is a total of 114 openings at E-5 and and 97 for E-6.

Mark D. Faram is a former reporter for Navy Times. He was a senior writer covering personnel, cultural and historical issues. A nine-year active duty Navy veteran, Faram served from 1978 to 1987 as a Navy Diver and photographer.
Share: