A junior sailor assigned to the aircraft carrier George H.W. Bush is accused of promising to pay an undercover law enforcement official $10,000 to murder someone, according to a Navy charge sheet.
A hearing was held this week in Norfolk, Virginia, to determine whether evidence is sufficient to court-martial Aviation Boatswain's Mate (Fuels) Airman Uriel Gerardo-Olivas on attempted murder and other charges.
Navy officials declined to confirm the target of Gerardo-Olivas' alleged murder-for-hire plot, but the Virginian Pilot reported that attorneys said he was attempting to take out his wife.
The proceeding this week, known as an Article 32 hearing, involves a hearing officer weighing the evidence and making a recommendation to commanding officers about whether the case is strong enough to go to trial.
Gerardo-Olivas allegedly slipped the undercover agent a down payment of $500 in July for the hit and promised an extra $10,000 when the job was finished, according to charge sheets.
RELATED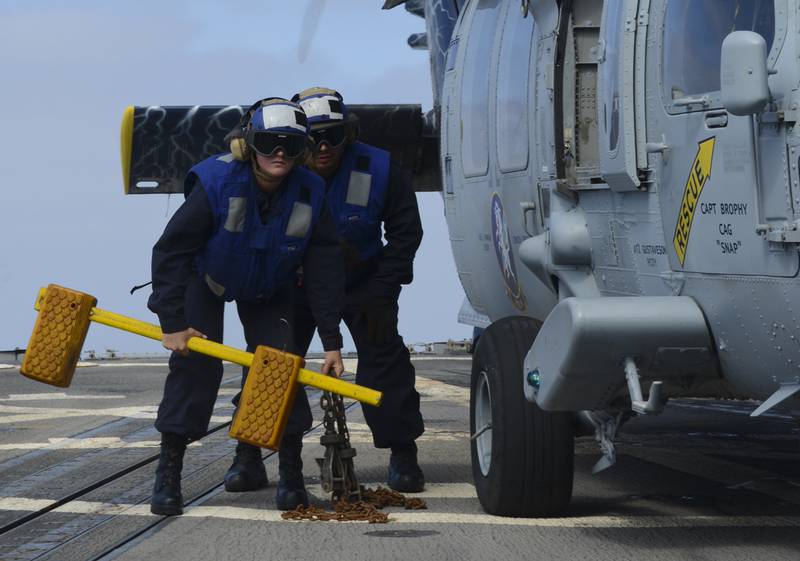 Gerardo-Olivas also could be prosecuted for threatening to murder a fellow sailor and trying to pay one sailor to kidnap another, the charge sheet shows.
There's another allegation that he pointed a loaded firearm at his neighbor in May near Hampton, Virginia, the court documents reveal.
It is unclear whether the target of Gerardo-Olivas' alleged murder threat and kidnapping plan are the same person.
He has been in pre-trial confinement since July, according to his charge sheet, and could not be reached for comment.
Gerardo-Olivas also faces charges for using marijuana and stealing more than $500 in Basic Allowance for Housing, or BAH, according to charge sheets.
It remains unclear when the Article 32 officer will make a recommendation as to whether Gerardo-Olivas' case should go to court-martial.
Gerardo-Olivas enlisted in 2013 and Navy personnel files list his home of record as Oregon.
His job entails maintaining fuel systems for aircraft based aboard the carrier.
Geoff is a senior staff reporter for Military Times, focusing on the Navy. He covered Iraq and Afghanistan extensively and was most recently a reporter at the Chicago Tribune. He welcomes any and all kinds of tips at geoffz@militarytimes.com.
Share: