A submarine officer is accused of stalking a woman in Washington, D.C., sticking GPS devices on her vehicle, peeping into her fourth-floor window and recording her kissing another man, according to Navy charge sheets.
The lieutenant commander, assigned to the ballistic missile sub Nebraska in Washington state, also stands accused of physically abusing her, placing a tracking device on her friend's vehicle and hiring a private investigator "to gather information about men she was dating or had dated," according to the legal filings.
Both the name of the officer and the woman he allegedly stalked are redacted from the paperwork provided to Navy Times.
An Article 32 hearing to weigh the evidence against him and decide whether his case should go to a court-martial trial was scheduled for last week but was cancelled.
It still will take place but no date has been set for the proceedings, according to Lt. Cmdr. Michael Smith, a spokesman for Submarine Group 9 at Naval Base Kitsap-Bangor, the Nebraska's homeport.
"The accused are presumed innocent until proven guilty at court-martial," Smith added.
RELATED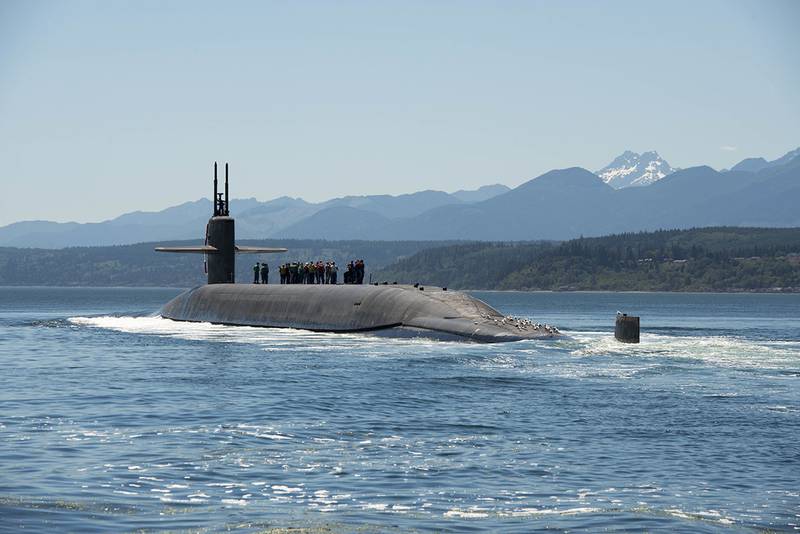 The alleged stalking took place in and around Washington, D.C., from roughly April 2016 to February of 2018, the charge sheets indicate.
Authorities suspect that he trailed the woman to various residences and D.C. restaurants without her knowledge and of "sneaking into a backyard to watch the woman and another individual."
The stalking charge includes allegations that he accessed her computer without her knowledge to snoop into her "bank accounts, messages, and email accounts" and delete "messages from her computer," the charge sheet states.
Investigators believe that he also unlawfully entered her apartment in 2017 to delete her emails.
The officer faces assault consummated by a battery charges for several incidents, including one where he allegedly straddled the woman, held her wrists with his hands and covered her mouth with his hand, bruising her lip in the process, according to his charge sheets.
The records indicate that he's suspected of grabbing the woman's arms to restrain her during two other alleged incidents.
Late last month, two petty officers from the Nebraska faced their own Article 32 hearings for alleged sex crimes against a girl in base barracks.
Two other sailors on the base also could go to court-martial for the alleged 2017 incident.
Geoff is a senior staff reporter for Military Times, focusing on the Navy. He covered Iraq and Afghanistan extensively and was most recently a reporter at the Chicago Tribune. He welcomes any and all kinds of tips at geoffz@militarytimes.com.
Share: