COPENHAGEN, Denmark — One of Norway's navy frigates has almost completely gone under water after an oil tanker rammed into it last week and tore a large hole in its side, authorities said Tuesday.
Rear Adm. Nils Andreas Stensoenes, the head of Norway's navy, said several of the wires used to stabilize the KNM Helge Instad snapped Tuesday, causing the vessel to sink further into the fjord.
Only the top of the frigate with its radar and antennas remained above the waterline.
The 134-meter (442-foot) frigate began listing heavily after a Maltese-flagged oil tanker collided with it Thursday in a harbor in Sture, north of Bergen. Its 137 crew were evacuated and eight people onboard were injured.
The tanker was only slight damaged in the collision.
RELATED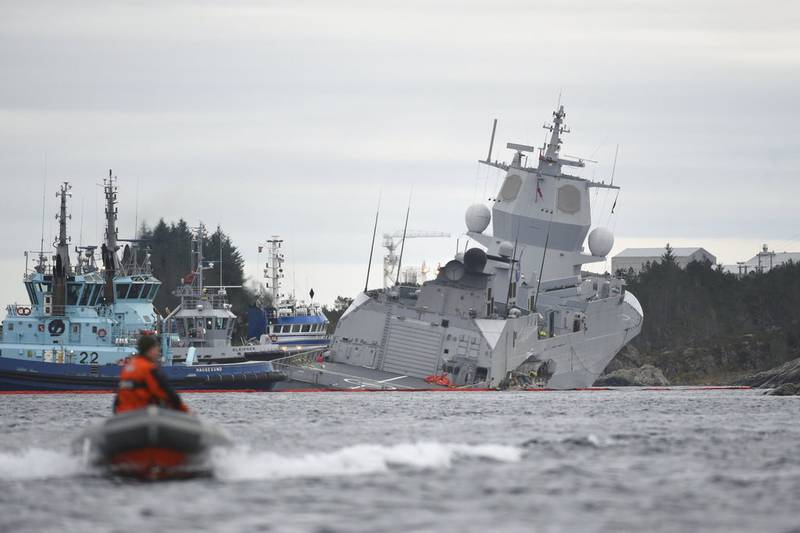 Stensoenes said plans remained to recover the vessel, but didn't give details. Authorities are investigating the cause of the accident.
"It is too early to say what kind of damages there are," Cmdr. Haavard Mathisen said.
Built in Spain in 2009, the frigate was part of a NATO fleet in the Atlantic, and had recently taken part in the vast Trident Juncture NATO military drill in Norway.
The area surrounding the almost sunken frigate has been declared a military area.
Share: