Norfolk, Va. — The second half of the Harry S. Truman Carrier Strike Group's historic deployment came to a close shortly before noon on Sunday, when the flattop and its guided-missile escorts returned here.
It was a cold day, alternating between rain and sunshine, but throngs of family members flocked to the piers to greet nearly 6,500 sailors from the Truman, the cruiser Normandy and destroyers Arleigh Burke and Forrest Sherman.
Carrier Air Wing 1's squadrons had their homecoming on Friday and Saturday as their aircraft departed for shore, some bound for Naval Air Station Oceana in Virginia Beach while others were slated to continue on to Jacksonville, Florida; Whidbey Island, Washington; and Lemoore, California.
"You should be justifiably proud of a historic deployment," said Fleet Forces Command's Adm. Christopher Grady over the Truman's 1MC announcing system shortly after boarding the carrier on Sunday.
"It was lots of hard work, with over 200 days underway while steaming over 70,000 nautical miles and flying over 12,000 sorties. You should be proud of yourselves. Each of you know too well the amount of grit and determination that underpins those numbers."
RELATED
Sunday ended what admirals on the Norfolk pier and inside the Pentagon agree was a successful implementation of the Dynamic Force Employment plan created by Defense Secretary Jim Mattis to shake up the Navy's carrier strike group deployment schedules.
Seven-month carrier tours had become routine but the Truman mixed that up. The strike group departed Norfolk on April 11, just a year and nine months after returning from a record-setting deployment bombing the Islamic State in the Middle East.
The Truman and its escorts make a surprise return to to Virginia on July 21 for what officials cautioned families was an "working port visit," not a homecoming.
They left again on Aug. 28 for a rendezvous in the Atlantic with sister carrier Abraham Lincoln before continuing on to NATO's massive Trident Juncture exercises in the Norwegian Sea, a show of force that reminded Russia that America and its allies can put troops ashore and munitions on target if necessary.
They later sailed across the Mediterranean Sea and then back across the Atlantic Ocean to Virginia.
The Truman's nontraditional tour was designed to both assure allies and warn potential enemies that the United States can show up suddenly with dominant firepower to defend our interests and alliances.
"The most unique aspect of this deployment was the broad range of places we went," said Rear Adm. Gene Black, the strike group's commander.
"From the East Med to the Arctic Circle to operating inside a Norwegian fjord. And then we can home in the middle of all that for five weeks and had a working port visit. It was unlike any deployment I've been on and really showed the power of a U.S. Navy carrier strike group."
Capt. Nicholas J. Dienna, the commanding officer of the Truman, said the highlight of the cruise's second act was crossing the Arctic Circle. That netted the crews on the carrier and its escorts Arctic Service Medals and certificates pronouncing them members of the "Order of the Blue Nose."
"The most significant part of the second phase of our deployment was to demonstrate our capacity to operate in areas where we have not in the last 30 years, up north in the Arctic Circle in a demanding environment," Dienna said.
Dienna said that his warship operated flawlessly in the demanding environment.
"The Nimitz-class aircraft carrier was designed during the Cold War to operate in these latitudes, in that cold environment," he said.
"It is extremely demanding on the people," Dienna said. "We operated in high seas and cold temperatures and in really high winds. You can imagine how physically demanding that is on the flight deck crews and the squadron maintainers who operate 10, 12, 14 hours a day in that environment. They did phenomenally but it is hard work."
RELATED
On the Norfolk pier, Stephen and Jennifer Tobias of Carlsbad, California, strained for more than an hour to garner a glimpse of her son, Information Systems Technician 2nd Class (IW) Wyatt Ogie, who was completing his first cruise onboard the Truman.
For his stepfather, the homecoming brought back memories from his 30-year Navy career.
"It's amazing how that happens and you see how much the Navy has changed in some ways and in many others how it's not changed at all," said retired Chief Warrant Officer 4 Tobias.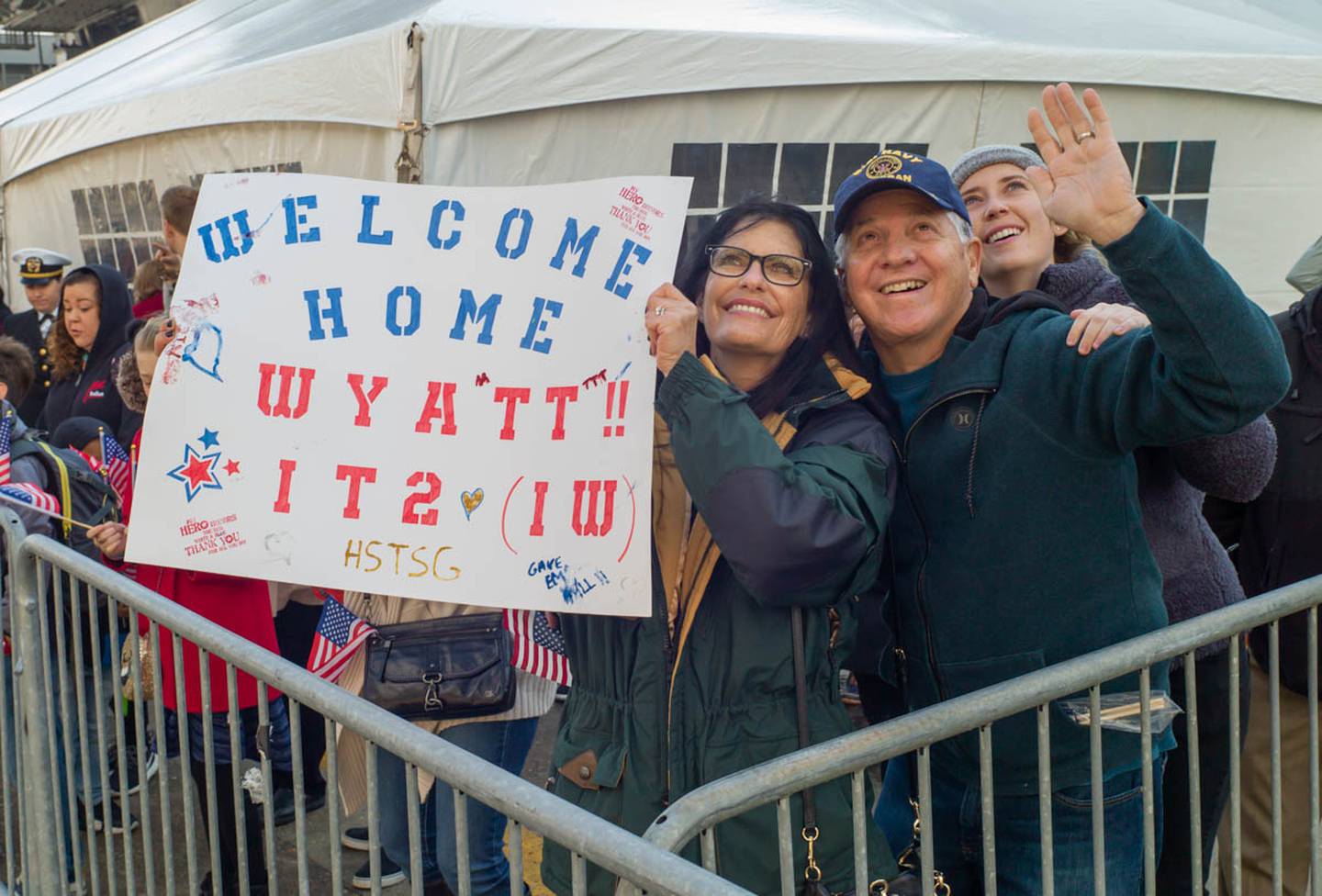 The Truman's crew will now get some rest during the holidays. But when they return, their warship becomes the "ready carrier" on the East Coast, relieving the George H.W. Bush, which is slated to enter a maintenance phase.
"Keep your cutlass sharp," Adm. Grady told the sailors. "You will remain on call, sustaining your ability to respond should America or her allies need you. Enjoy your families, your home and the holidays.
"Thanks for keeping us safe."
Mark D. Faram is a former reporter for Navy Times. He was a senior writer covering personnel, cultural and historical issues. A nine-year active duty Navy veteran, Faram served from 1978 to 1987 as a Navy Diver and photographer.
Share: