Thanks to President Donald Trump's latest budget request, Big Navy is poised to get even bigger, adding roughly 21,000 officers and sailors to the sea service by the end of fiscal year 2024.
That's 10,000 more sailors than previous projections, part of a Pentagon push to have 354,000 personnel in uniform five years from now, the most since mid-2006 when the Navy was drawing down its numbers.
"We'll grow to 340,500 [by the end of FY 2020]. That's a 5,100 increase that supports the new platforms, the new capability as well as taking care of fleet needs and reduces gaps [at sea]," said Rear Adm. Randy B. Crites, Deputy Assistant Secretary of the Navy for Budget, at a March 12 Pentagon briefing.
To meet those end strength figures, the Navy must continue to reach recruiting goals. It's done that for 137 consecutive months.
It also means higher goals for retaining top talent, which should spur bigger re-up bonuses and more advancements while the Navy competes with the private sector to keep its best talent in uniform.
"The truth of it is, with the numbers that we need for growth right now, we can't do it with accessions alone. We can't do it with retention alone. We've got to have fairly record high numbers in both to get there," said Vice Adm. Bob Burke, the Navy's chief of personnel, during an interview with Navy Times in his Virginia office.
"We wrote a growth plan that was dependent on a balance of accessions and retention. And, you know, any time you try to grow, you would like to do it that way. Generally, it's not achievable, unless you've laid a lot of groundwork ahead of time."
Burke's plan aims to have at the end of this fiscal year 7,500 more sailors than he started with; then the Navy will increase by 5,000 personnel per year, possibly into the next decade "if we stay on the path to 355 ships," he said.
At the same time, the Navy will continue its Sailor 2025 personnel system reforms, including efforts to overhaul performance evaluations, hike meritorious advancements and open more career fields to the uniformed workforce.
Vying against other services and the private sector for the best volunteers, Burke added 200 recruiters last year and will deploy another 200 by October. He's also ordering recruiting duty extensions between six to 12 months for 400 other sailors. His goal is to have 3,550 recruiters on the beat in 2020, enough to woo 40,000 new sailors into the service in 2020, plus 400 prior service members. That's up from 171 in 2018.
To aid recruiters, the Navy is arming them with cash incentives. In 2018, the service spent nearly $76 million on enlistment bonuses. That pool of money is projected to top out around $118 million this year and rise to $134 million in 2020, budget documents reveal.
That spending comes on top of a proposed 3.1 percent pay hike for all personnel.
Recruiting and retention are vital because the Navy sheds about 40,000 sailors to the private sector annually. Last year, Navy officials kept 78 percent of eligible sailors in the ranks, significantly higher than their initial goal.
But Burke said that's not good enough and mandated loftier retention targets for Zone A, B and C sailors next year — including keeping up to 89 percent of all eligible sailors who have accrued between 10 and 14 years of service — while offering increasingly higher reenlistment bonuses.
By 2020, the Navy projects to spend $195 million annually on re-up bonuses, $11 million more than will go to sailors this year, with an emphasis on using cash to keep personnel in critical billets such as nuclear power, special warfare, advanced electronics, aviation maintenance, information technology and cryptology.
As the Navy grows, that list is expected to expand to aviation and surface boatswain's mates and sailors with important skills like fire controlmen and operations specialists.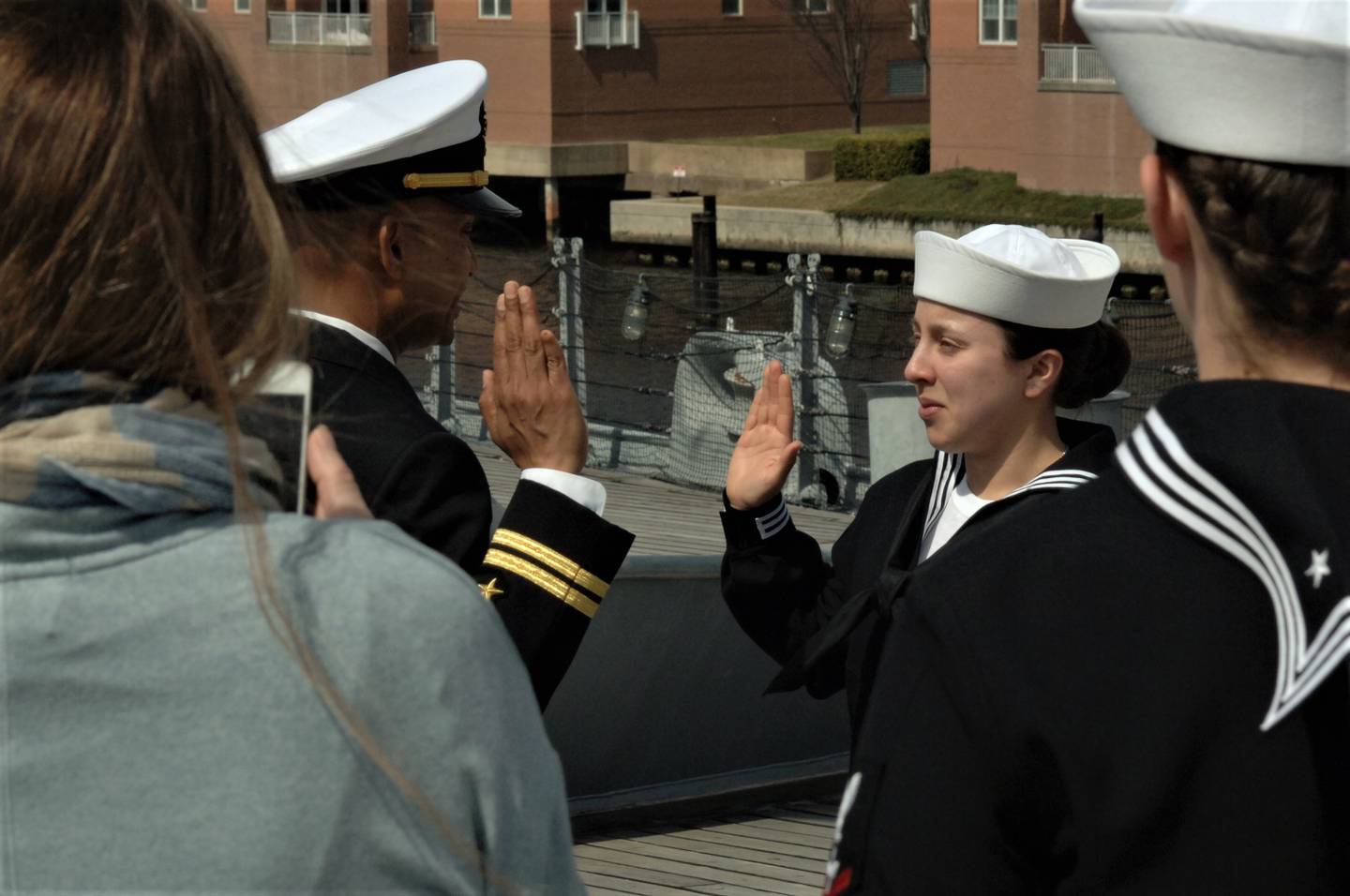 An ongoing pilot program launched in 2018 that rewards sailors with financial bonuses for achieving high performance evaluation marks is slated to continue into 2020, too.
Budget projections estimate that sailors in crucial billets also could earn between $75 to $450 more per month is they're selected for Special Duty Assignment pay.
In 2018, 27,965 sailors collected a total of $91 million in incentive pay. That rose to $98 million distributed to 29,819 sailors this year. In 2020, the Navy plans to share a $102 million pool with 30,951 sailors.
Non-monetary perks to keep sailors in the Navy could include choice of duty station or a chance to attend an advanced school, things Burke believes many sailors value more than money.
This is true even in the ranks of senior enlisted leaders. Special boards are poised to reward sailors with temporary advancements into the next pay grade, as long as they take a tough assignment or fill billets other sailors avoid.
To keep their pay grades over the long haul, however, another selection board must greenlight their advancements.
There's one community likely to lose sailors.
Budget documents reveal the Navy plans to shed about 3,100 medical personnel in FY 2020, then another 2,200 the following year. But the service hasn't released the full breakdown of who will go and when, according to Navy spokesman Lt. Cmdr. Kevin Chambers.
Following guidance from the National Defense Strategy, the Navy is shifting away from supporting expeditionary warfare on land to embrace the high-end fight at sea. That's why officials have proposed cutting both reserve and active-duty medical facility units and consolidating personnel under a new Defense Health System shared with the other services.
Spokesman Chambers said the Navy hasn't released which units will be trimmed and what the expected impact of the cuts will be, only indicating that the "current list of billet reductions by specialty and location" is still a "work in progress."
He insisted, however, that no Navy personnel "will be forced out" by the cuts and instead officials will count on "medical personnel attrition" to take care of the bulk of those leaving.
Officials say these medical units annually combine to lose about 3,150 personnel.
RELATED
Mark D. Faram is a former reporter for Navy Times. He was a senior writer covering personnel, cultural and historical issues. A nine-year active duty Navy veteran, Faram served from 1978 to 1987 as a Navy Diver and photographer.
Share: