Norfolk — The guided-missile cruiser Normandy returned to Naval Station Norfolk on Saturday for repairs, after spending less then 24 hours at sea while prepping for an upcoming COMPTUEX.
The Ticonderoga-class warship departed Norfolk on Friday and was slated to participate in a month-long Composite Unit Training Exercise to certify the Harry S. Truman Carrier Strike Group for an upcoming "double pump" deployment.
"We can confirm that the USS Normandy pulled back into port on 6 July to troubleshoot a maintenance issue," 2nd Fleet spokeswoman Lt. Cmdr. Ashley Hockycko told Navy Times.
Hockycko said that she could not discuss the specific maintenance woes plaguing the warship or how long repairs will take, indicating only that the cruiser "is expected to return" to the exercise "as soon as possible."
RELATED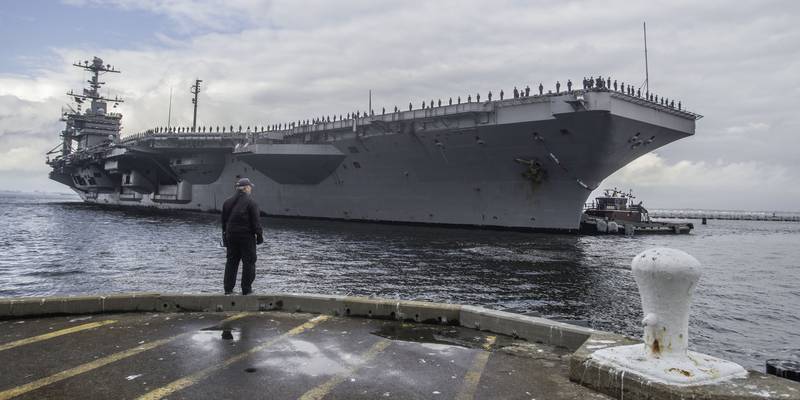 It's the second time this year that a Norfolk-based guided-missile cruiser has been forced to return to port during a carrier strike group's COMPTUEX.
In February, the guided-missile cruiser Leyte Gulf and the dry cargo and ammunition ship Robert E. Peary sailed to Florida's Naval Station Mayport for repairs after they collided during a replenishment-at-sea exercise during the Abraham Lincoln Carrier Strike Group's COMPTUEX.
Leyte Gulf spent nearly nine days away from the exercise while undergoing repairs.
The cruiser began its overseas tour with the rest of the strike group on April 1.
Mark D. Faram is a former reporter for Navy Times. He was a senior writer covering personnel, cultural and historical issues. A nine-year active duty Navy veteran, Faram served from 1978 to 1987 as a Navy Diver and photographer.
Share: