While Navy's offense sputtered at the close of Saturday's rivalry game in Philadelphia, Army West Point's spun out of control.
Three straight turnovers ended three straight fourth-quarter drives for the Black Knights at Lincoln Financial Field, where 69,722 fans watched the heavily favored Midshipmen escape with a 21-17 victory and extend their record rivalry win streak to 14.
Army West Point freshman quarterback Chris Carter, who led the Black Knights (2-10) to a 17-14 halftime lead in his second career start, fumbled away a snap with less than nine minutes to play, then threw an interception into the arms of Navy (10-2) senior safety Lorentez Barbour with about 3:30 left.
And after Army's defense stiffened to prevent Navy senior quarterback Keenan Reynolds from adding to another record-setting day, a gadget play gone wrong led to another interception to seal the Navy victory.
On a first down at the Navy 39 with a little more than two minutes to play, Carter fired a backward pass to the left sideline for Army wideout DeAndre Bell, who heaved it deep for freshman Tyler Campbell. Instead of Campbell, he found Navy junior Daiquan Thomasson, who hauled in the interception a few dozen yards from the suddenly silent corner of Lincoln Financial Field stands filled with West Point cadets.
"We were just trying to hit 'em," said Army head coach Jeff Monken, whose team took to the air when both offenses began sputtering later in the game. "It's a play that we had worked on."
Reynolds ran for both of Navy's earlier touchdowns, a 1-yard plunge and a 58-yard scamper, to set the all-time scoring mark in the rivalry's 116-year history.All of Navy's second-half possessions ended in punts except one, but that one proved to be the difference: Reynolds hit junior wideout Jamir Tillman with a 50-yard scoring strike midway through the third quarter for what would be the game's final touchdown.
"The real difference was the turnovers," said Reynolds, whose Mids didn't cough up the ball all day. "We didn't play that well on offense." set to visit BYU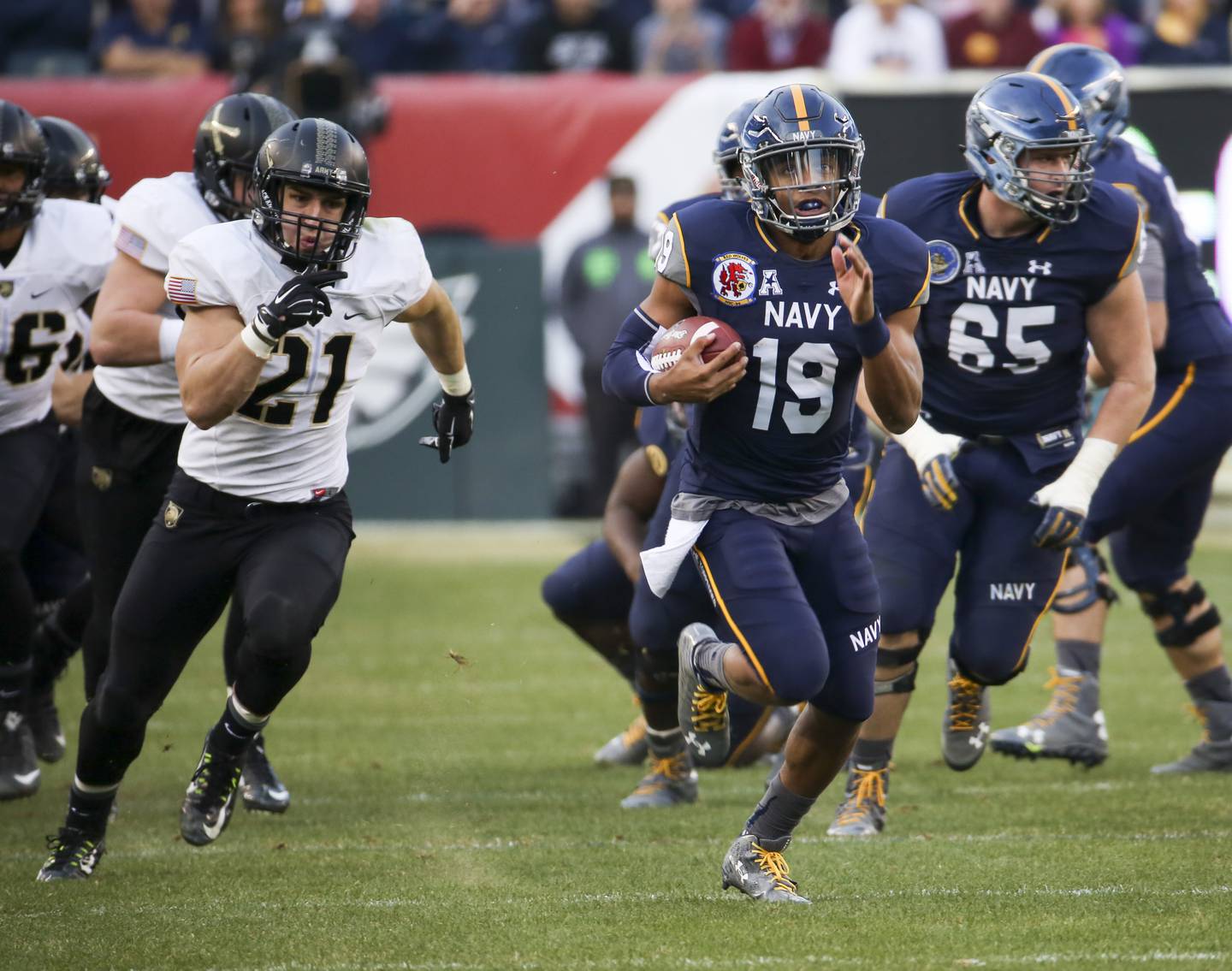 Navy quarterback Keenan Reynolds breaks away for a long run and a 1st quarter touchdown during the Army Navy football game at Lincoln Financial Field in Philadelphia, PA on December 12, 2015. (Alan Lessig/Staff)
Photo Credit: Alan Lessig/Staff
"I have been at the Naval Academy for 18 years and I have loved coming to work every day," Niumatalolo said after the game. "I have been approached about other jobs in the past and I wasn't interested. This is different. This is about my faith."
Reynolds finished with 21 carries for 136 yards to go with 113 yards passing, all but 11 of those to Tillman. Carter had a better passing line in defeat, going 9-for-15 for 208 yards and a score, but rushed for just 18 yards on 22 carries.
"I don't know what to say after a loss like that," Army coach Monken said. "I can tell you this: The enemy that those seniors are going to face in about eight months, they're in for it, 'cause we've got some fighters."
Army punched first thanks to a 50-yard first quarter punt return by junior Edgar Poe, which set up a 32-yard Daniel Grochowski field goal for the game's first score. Campbell answered Reynolds' first rushing TD with the first of his career, a 29-yard dash around right end that made it 10-7.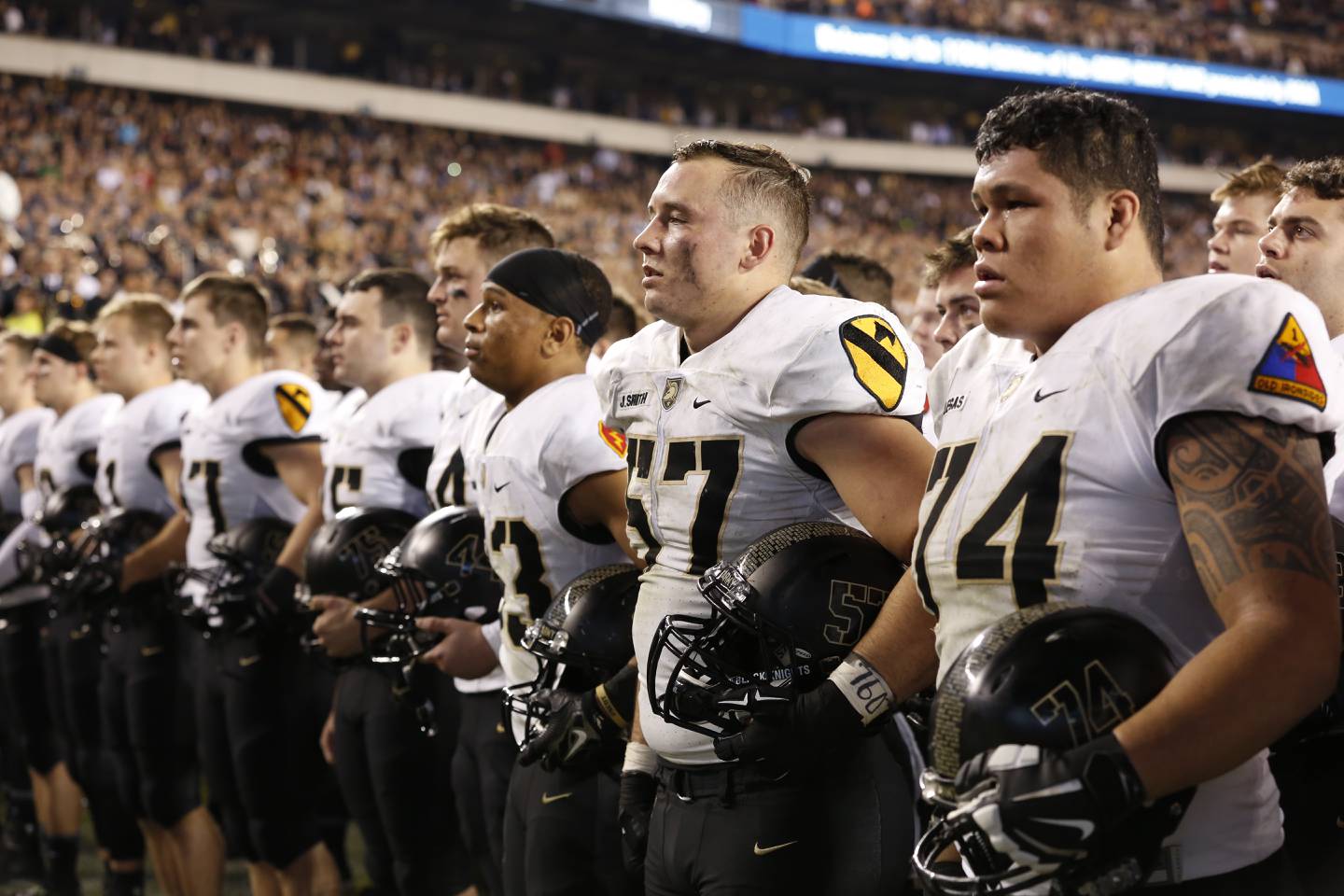 Army players sing their Alma Mater after losing to Navy in the Army Navy football game at Lincoln Financial Field in Philadelphia, PA on December 12, 2015. (Alan Lessig/Staff)
Photo Credit: Alan Lessig/Staff
Reynolds ducked behind fullback Chris Swain for a short TD run to make it 14-10, but Carter hit Poe for a 39-yard touchdown with about two minutes to play in the first half, giving Army a lead at the break for the first time since 2009.
"Our seniors took over [leadership duties] in the second half," said Niumatalolo, who remained unbeaten in rivalry games with his eighth win. "When [the leadership] comes from the players, it carries way more weight."
Carter, whose first start came in a loss to Rutgers the last time Army took the field, and the Black Knights didn't have an answer. Behind linebackers D.J. Palmore and Daniel Gonzales, the Navy's defense clamped down, holding Army without a first down for its first four possessions of the second half.
"As an offense, we knew it was coming," Carter said. "We just needed to execute better."
Despite Navy's recent rivalry dominance, the showdown is no stranger to close games: The teams were tied at 7 entering the half last year before the Mids managed a 17-10 win, and four of the last five outings have been decided by a touchdown or less.
Navy will face Pittsburgh in the Military Bowl presented by Northrop Grumman on Dec. 28 in Annapolis. Army, which last won the rivalry game in 2001, failed to make the postseason for the fifth straight year.
Kevin Lilley is the features editor of Military Times.
Share: