Calling a fatal August collision involving the destroyer John S. McCain that killed 10 sailors "preventable," the Navy's 7th Fleet has fired the ship's commanding officer and executive officer.
The McCain's skipper, Cmdr. Alfredo J. Sanchez, and the ship's second-in-charge, Cmdr. Jessie L. Sanchez, were relieved Wednesday morning in Japan, according to a 7th Fleet release.
"While the investigation is ongoing, it is evident the collision was preventable, the commanding officer exercised poor judgement, and the executive officer exercised poor leadership of the ship's training program," the release states.

Both officers, who are not related, were relieved due to a loss of confidence, according to the command.
Alfredo Sanchez was reassigned to Naval Forces Japan, while Jessie Sanchez has been moved to Ship Repair Facility in Yokosuka, Japan.
RELATED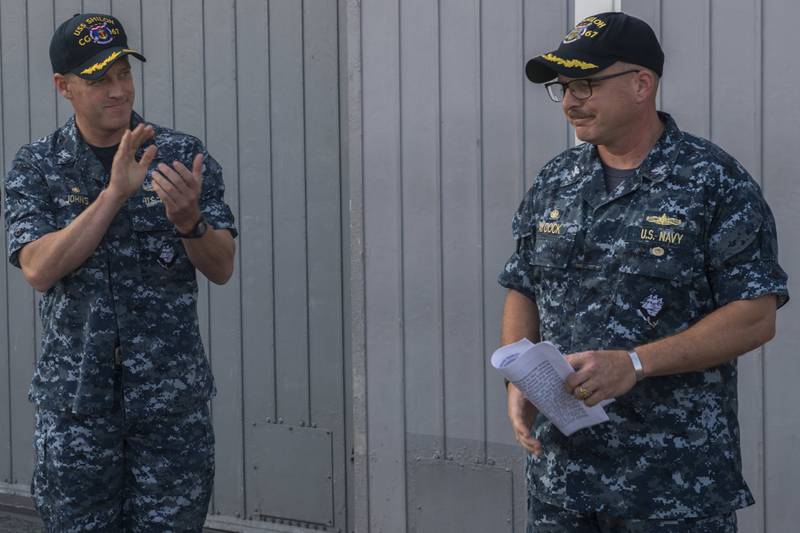 Cmdr. Ed Angelinas, former CO of the destroyer McCampbell, has assumed command of the the damaged ship, which is scheduled to undergo repairs this month in Japan.
Lt. Cmdr. Ray Ball, a chief engineer from the cruiser Antietam, will serve as acting XO of the McCain.
The McCain collided with a merchant vessel Aug. 21 near Singapore. Ten sailors drowned after the collision.
Less than two months before that, the destroyer Fitzgerald collided with another commercial vessel off Japan, drowning seven sailors.
The Antietam ran aground in Tokyo Bay early this year. No one was injured, but a fuel spill ensued and the CO of that ship was also relieved.
The disasters have prompted a fleet-wide review of how the Navy conducts business.
Several leaders, including the head of the Navy's Japan-based 7th Fleet, have already been fired.
The CO and XO of the Fitzgerald, along with roughly a dozen other Fitz sailors, were disciplined in connection to the fatal June collision, Navy leadership announced in August.
The Navy's review is focusing in part on ensuring that surface fleet sailors understand the basics of their job.
Adm. Scott Swift, outgoing Pacific Fleet head, said in August that the fleet had experienced "a series of unfortunate incidents, some of which claimed the lives of our shipmates," while conducting basic duties like anchoring, navigation, surface ship contact management and carrier qualifications.

Geoff is a senior staff reporter for Military Times, focusing on the Navy. He covered Iraq and Afghanistan extensively and was most recently a reporter at the Chicago Tribune. He welcomes any and all kinds of tips at geoffz@militarytimes.com.
Share: