The fired former head of Navy Recruiting District Michigan was a consummate unprofessional who berated subordinates, drank with junior sailors, commented on female officers' looks and conducted award ceremonies "wearing civilian clothes and flip-flops," according to an internal investigation obtained by Navy Times.
A Navy Recruiting Command Inspector General report from January states that 26 of 28 personnel described Cmdr. John Wesley House as "at or near the bottom of their list" when it came to conduct, professionalism, demeanor and military bearing.
House, 49, was relieved of command that same month.
"Four personnel described CDR House as a person with an E-5 mindset wearing a commander's uniform," the report states of House, a prior-enlisted officer.
It's not the first time House's leadership style has been scrutinized by the Navy.
He was administratively punished for his alleged bullying while the executive officer of the amphibious transport dock San Diego in 2012.
He also had been investigated for similar conduct when he was the interim XO of the guided-missile frigate Hawes three years earlier, according to previous Navy Times reporting.
RELATED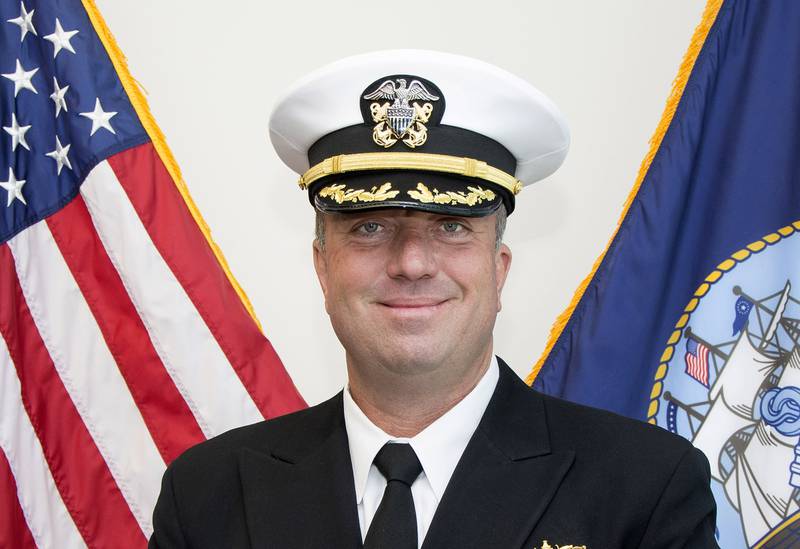 It remains unclear if the 2009 and 2012 investigations played a role in the Navy's decision to place him in command of the recruiting district in December of 2017, 15 months after he became its executive officer.
Military officials did not respond to questions submitted by Navy Times about that and House declined comment for this story through Navy Recruiting Command spokeswoman Lt. Cmdr. Jessica McNulty.
He also did not return personal telephone calls and email messages from Navy Times.
The latest investigation into House appears to have begun in October after officials received three anonymous IG hotline complaints and two anonymous emails sent to Navy Recruiting Command.
All alleged that he directed inappropriate and offensive comments to those under him, including "berating and belittling officers and senior enlisted members in front of civilian and junior military personnel" and wielding "threats and intimidation" against staffers "to create a hostile work environment."
Investigators later interviewed 28 staffers — 20 enlisted, five officers and three civilian employees — and were slated to talk to House on Nov. 8, but he declined to participate and instead filed letters requesting that he be relieved of command and allowed to retire, according to the report.
"CDR House stated he had gone through an IG investigation before and didn't feel he could go through the same process again," the report states.
House eventually agreed to a phone interview in December.
"CDR House admitted to his frequent use of profanity and did not deny a majority of the incidents of alleged leadership misconduct," the report states. "CDR House stated he never intended to create a hostile working environment and believes his conduct and actions were misunderstood by command personnel."
House is currently assigned to the Navy Operational Support Center in Detroit, McNulty said.
In the IG report provided to Navy Times in response to a Freedom of Information Act request, officials cloaked the names of individuals who complained about House.
Investigators determined several incidents tied to House crossed personal and professional lines of conduct.
House would regularly show up late for work, "looking tired and disheveled," the report states.
A uniformed staffer told investigators that he had heard of House calling "a few people on their personal cell phones at night while he (the CO) was drinking at bars."
"I have been told on multiple occasions that the CO seems to be hungover or even possibly drunk when he comes in to work in the morning," the chief wrote in a statement.
An officer reported in another statement that he heard House "has come into work a few times hung over because of the disheveled way he looks and because he is carrying two large Monster drinks."
Investigators corroborated similar allegations through multiple witnesses.
"House is out of uniform when reporting to work, stays out of uniform for most of the day, and frequently never gets into the uniform of the day," the IG report states. "When in uniform at headquarters (HQ) he rarely wears his uniform blouse and on multiple occasions he walks around without his boots on. He frequently wears flip-flops. CDR House has conducted personnel award ceremonies with personnel while wearing civilian clothes and flip-flops."
As casual as he was in his attire, House's leadership style also seemed to stray into the informal, investigators found.
House, they wrote, "is known to drink and fraternize with junior recruiting personnel after production meetings or other command functions" and he never required or enforced their obligation to "address him in a military manner such as sir, or by his title."
"He introduces himself as 'I'm House.'"
At a late 2017 all hands event, House tried to motivate his personnel by telling them "something to the effect, 'I don't care about (Navy Recruiting Command" and (expletive) the Commodore, at NRD Michigan we are going to do things our way,'" according to the IG report.
When a chief reported into the command to take a division leadership position, House allegedly mentioned that one of his recruiters had once been "a stripper and worked as a Red Bull" personality before getting hired at the command, investigators wrote.
In another setting, they added, House allegedly referred to a female staffer as "eye candy" and quipped that "he believes good looks is the primary factor in being a successful recruiter."
The report indicated that during several group meetings House allegedly asked about the relationship between two staffers "and once directly asked, 'Are you (expletive verb)?"
In another incident involving an Officer Performance Report, a subordinate "was mortified when CDR House brought up in front of everyone present that he thought" the two staffers "were sleeping together," according to the report.
A recruiter spoke of another alleged incident in which House reportedly asked a lieutenant to sit next to him on an office couch, he "either placed his hand on her leg or brushed his hand against her leg and that she did not like it so she got up and left," investigators wrote.
"Then at some later date, he called her into his office and screamed at her for not being on track to make missions and threatened to fire her. She believed that this was a direct result of her former interaction with the CO," the staffer alleged.
In another alleged incident tied to a 2018 performance review, House asked a staffer if the person "had a boyfriend" before suggesting the use of "the 'Tinder' app to date high school officials and potential centers of influence persons in order to help generate leads for recruiting."
Nearly all qualified division leading chief petty officers, or DLCPOs, assigned to the unit since 2017 had been relieved under House, the report states.
This included a chief relieved in March 2018 for missing recruiting goals for two months. That chief had been recognized as the DLCPO of the year only a few months earlier, according to the report.
"All current and former DLCPOs interviewed stated the continual threat of being relieved has negatively impacted their morale and the recruiters that work for them," investigators wrote.
"They all said they feel it is just a matter of time before they or the current DLCPOs will be relieved for one reason or another and that the continual change at the DLCPO level has negatively impacted divisional stability and recruiting production performance," the report states.
Beyond firing them, IG investigators detailed numerous examples of House belittling or berating recruiters to hike their performance.
House and one of his subordinates frequently required personnel to make up to 10-hour round-trip commutes to his headquarters without travel orders "as a potential form of punishment for taking an attrite or missing a recruiting objective," according to the IG report.
For some recruiters, that meant 14-hour days spent traveling and waiting at the HQ for five minutes of counseling, investigators wrote.
Last October, House ordered on short notice a mandatory training conference call for all hands.
When several people weren't on the line, he rescheduled the call for 5 p.m. on Halloween.
When staffers asked him to reconsider the timing of the call because sailors had made plans to take their kids trick-or-treating, House shrugged them off, according to the report.
"I don't care about a pagan holiday and that time will not negatively impact mission," he said.
Good performance didn't seem to shield other employees, investigators determined.
For example, witnesses indicated that on multiple occasions House "stated he doesn't respect reserve officers and officers without warfare pins" and would announce "that he hates supply officers."
"He makes sure to tell me that I'm not a real officer in front of as many people as possible and also has loudly said how he hates supply officers as he walks past me in the hallway," one lieutenant told investigators.
Another employee reported overhearing House say, "I don't care about contractors or the (General Service) civilian's morale," according to the report.
In one alleged incident related by multiple staffers, a civilian female employee arrived for a command luncheon and House announced that she "only comes out of her space 'when there is free food involved.'"
Investigators determined that the woman was "embarrassed and offended" by House's remarks so she "left the area and put in a leave request for the rest of the day."
Other staffers used informal means to avoid House's HQ.
"I try to stay as far away from headquarters as possible," one lieutenant wrote in an official statement. "You can feel the negative energy and everyone there is always in a terrible mood. I think the Skipper is spiteful and a good example of what not to do."
Not every employee agreed with their colleagues about House, however.
Some staffers told investigators they didn't believe House had contributed to the district's low morale: "They believed the personnel's low morale is more likely attributed to the pressure of making mission with high goals and the district not making goal," the report states.
During these months, there appeared to be little interaction between House and his XO, Cmdr. David Pavlik, and personnel told investigators "the two seem to avoid each other, which they find unusual and unsettling."
Pavlik was named the unit's leader after House's firing.
And then there's House's government-issued credit card.
After learning that House had a credit card payment returned for insufficient funds and with a debt balance exceeding $4,000 after travel claim reconciliation payments occurred, IG investigators reviewed his billing statements between May and October of 2018 "and identified evidence of GTCC misuse."
IG investigators flagged 31 purchases that were made outside of House's periods of official travel and found a returned check fee in the amount of $29 was posted on Oct. 8, 2018.
"CDR House admitted he probably misused his (government credit card) to make purchases outside the scope of official travel purposes, but never did so intentionally or for personal gain," the report states.
More than half those charges occurred in Arkansas, House's home of record and where he enlisted in the Navy in 1988.
After recruit training at Great Lakes, House became a sonar technician. He was commissioned in 1996 through the Seaman to Admiral program and continued to rise up the officer ranks, according to his official biography and service records.
The first official investigation that touched on allegations of House's abrasive leadership style appears to be a 2009 probe by Carrier Strike Group 10.
As an interim XO on board the guided-missile frigate Hawes, then-Lt. Cmdr. House made the lives of two departments heads so miserable that they resigned, according to a previous Navy Times story that cited the investigation.
Lacking operations and combat systems officers, House named the chief engineer to the CSO post and put a junior officer in charge of the plant, Navy Times reported.
That personnel shift and House's decision to jettison some training contributed to the deterioration of the frigate's main engine and triggered the CSG 10 inquiry, according to the early Navy Times story.
But it didn't seem to derail his career. House pinned on commander in 2011.
RELATED
A year later, however, House sparked a second Navy investigation while serving as the XO of the amphibious transport dock San Diego ahead of its 2012 commissioning, according to past Navy Times reporting.
He was largely in charge of the warship as it got ready for its midyear commissioning because his skipper, Cmdr. Jon Haydel, was fired in March of 2012 after pornographic images allegedly were found on his official computer hard drive, Navy Times revealed.
But even before the fall of Haydel, House's leadership style had rankled key members of his crew. During one staff meeting in January of 2012, for example, he exploded at his subordinates: "(Expletive) all of you. I will personally see that all of you fail," according to the report cited by the earlier Navy Times story.
House pushed the crew hard to deliver results, but when they failed he humiliated officers and "made everyone's life hell on earth," one crew member reportedly told investigators.
"If he finds a reason he does not care for you, he will relentlessly look for reasons to tool and berate you in public with the goal of finding your breaking point so he can be rid of you," another witness alleged.
When asked by Navy Times in 2012 why House had not been fired, only sanctioned with "administrative actions," a Surface Forces spokesman said "the investigation didn't call for the XO to be relieved."
In fact, the probe also revealed that House, for all his critics, "got results," according to the report cited by Navy Times.
At acceptance trials in 2011, the San Diego scored higher than any of the five previous vessels in its class.
House departed the warship in December of 2012 for a two-year stay at the Naval Surface and Mine Warfighting Development Center in nearby Point Loma, service records show.
But during the investigation into his conduct on board the San Diego, crew members were skeptical that their XO's behavior would change there or anywhere else he went.
"The crew believes that nothing will happen to the XO and that the system doesn't work. The XO has been the subject of numerous complaints. Crew members have been interviewed numerous times as part of these complaints and believe that nothing has been or will be done," according to the report cited by Navy Times.
House's history at these previous commands bubbled up during a January 2018 staff meeting in Michigan.
Multiple witnesses told IG investigators that House began acting "aggressively toward a newly reported junior sailor that he had heard was bad-mouthing him."
The report indicates that House kept badgering him until the sailor "eventually broke down and told CDR House he heard CDR House was relieved as the CO of another command because he was a tyrant and abusive towards his junior officers."
At first, House seemed elated to prod an answer from the junior sailor "but then got all worked up and defended himself by talking about how 'those JOs' were pieces of (expletive), got what they deserved, and he was only doing his job," according to the report.
Geoff is a senior staff reporter for Military Times, focusing on the Navy. He covered Iraq and Afghanistan extensively and was most recently a reporter at the Chicago Tribune. He welcomes any and all kinds of tips at geoffz@militarytimes.com.
Share: